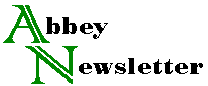 Volume 15, Number 6
Oct 1991
People
Debra McKern will be on a six-month fellowship in Egypt from October to April, as part of the ALA Library Book Fellows Program, jointly sponsored by the U.S. Information Agency. She will be conducting a preservation needs assessment for the National Library of Egypt.
Myron Chace is the new ALA representative to NISO, and invites comments and feedback from ALA members on photoreproduction standards and issues.
Pamela Darling graduated with a Ph.D. from General Theological Seminary on May 22. Her dissertation was on the place of women in the Episcopal Church, 1870-1990. Then she moved to Philadelphia, where she has a house with a real back yard with a stream, grass and ducks: 1 1 Brookshire Lane, zip 19116.
Robert Wedgeworth, Dean of the School of Library Service at Columbia University, has been elected President of IFLA. He is the first U.S. president of IFLA in 60 years.