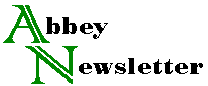 Volume 15, Number 5
Sep 1991
People
Robert W. Frase has been awarded an honorary life membership by the American Library Association Council.
Frank Fabry, now Library Conservator for Case Western Reserve University Libraries, will be leaving his job there in September, in preparation for his new job as Conservation Officer for the National Library of New Zealand, which begins in November.
Susan Harris has been appointed to the new position of Book/Collection Conservator at Cornell University, to begin in early September. She will be involved in the development of a conservation facility designed to treat large groups of rare and semi-rare materials.