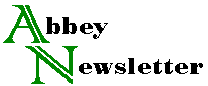 Volume 15, Number 4
Jul 1991
People
Robert Espinosa is the new Chair of the AIC Book and Paper Group. Carol Turchan is the Program Chair, and Jane Dalrymple-Hollo is Secretary/Treasurer.
Jonathan Arney will be a faculty member with the Center for Imaging Science at the Rochester Institute of Technology beginning August 1.
Carla Hanin has recently joined the staff at the Archives of Ontario as a conservator. She can be reached at Archives of Ontario, Conservation Unit, 77 Grenville St., Toronto, ON, M7A 2R9 (416/327-1522).
Dudley A. Weiss, lawyer and friend of the Library Binding Institute, died during the first half of this year.
Hans Wiesendanger, Manager of the University of California Library Binderies for 11 years, has retired and looks forward to travelling, hiking and gardening in the years ahead.
Richard D. Smith and Larissa Shapkina were married May 25, and a few days later, Ms. Shapkina, a chemist, gave a paper at the AIC conference entitled, "New Technologies from the USSR for Restoring Book Paper and Drying Water-Damaged Books"
Mark C. Robinson was appointed Director of Reprographic Services at NEDCC in May. He was most recently employed as Corporate Information and Image Technology Specialist at Raytheon.
Jean L. Whiffin was appointed Preservation Officer Jan. 1 in the newly-established Preservation Services unit at the University of Victoria Libraries in British Columbia.