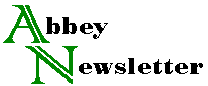 Volume 15, Number 3
May 1991
People
Susan F. Blaine has joined the Smithsonian Institution Libraries as head of the Preservation Services Department.
Bonnie Rose Curtin began work in February as a Management Analyst in NARA's Office of Records Administration.
T.K. McClintock has opened his own studio for conservation of fine art and historic works on paper, in the Brickbottom Building, One Fitchburg St., C-219, Somerville, M& 02143 (617/666-9010).
Julia Miller is in Australia with her family for a year's sabbatical. Her address is 7 Central Ave., Black Rock, Victoria, 3093 Australia, until February 1992.
Karen Brown graduated in October 1990 from the Art Conservation Program at Queen's University, &-id is mw at the Provincial Archives of New Brunswick.
Peter Verheyen accepted the position of Assistant Conservator at Yale beginning May 6.
Terry Belanger will be moving to the University of Virginia in 1992.