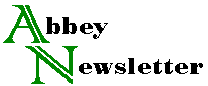 Volume 15, Number 1
Feb 1991
People
Jo Ane Martinez, a May 1990 Columbia graduate, has accepted a position as Collections Conservator at the New York Public Library.
Olivia Primanis has been appointed Head of the Book Conservation Department in the Harry Ransom Humanities Research Center at the University of Texas in Austin.
Warren J. Haas retired from his position as President of the Council on Library Resources on December 31. The January 1991 CPA Newsletter summarizes his work there beginning in 1978. Much of it, including the founding of the Commission on Preservation and Access, had to do with the brittle book problem.
David Penniman has been named the fourth President of the Council on Library Resources. He was previously with OCLC and Bell Labs.
Lisa Hall has opened a private practice in conservation of art an paper in southeast Florida. Address: PO Box 653, Boca Raton, FL 33429 (407/393-7053).
Paul Storch, editor of Leather Conservation News, has accepted the position of Objects Conservator at the Minnesota Historical Society, as of Jan. 1, 1991.
Bill Underdue was appointed Binding Officer at the Library of Congress on July 1, 1990. Matt Roberts, his predecessor in that position, retired June 30.
Melanie Martin is now at the Royal Academy in London as the Kress Paper Conservation Intern, following an extended internship at Trinity College Library.
Michele Valerie Cloonan, formerly Preservation Librarian at Brown University, is now an assistant professor in the Graduate School of Library and Information Science at the University of California, Los Angeles.
Cliff McCawley, Chief of Conservation Processes Research at the Canadian Conservation Institute, has been elected chair of the ICOM Conservation Committee for 1990-1993.
Frederick A. Bearman, Senior Book Conservator at the Public Record Office (London), will spend 10 months of 1991 at the Folger Shakespeare Library, beginning February 1. His main duties will involve the conservation of the library's substantial collection of First Folios (1623).