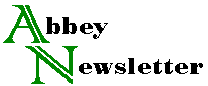 Volume 14, Number 8
Dec 1990
News
WINTERTHUR WILL OFFER LIBRARY/ARCHIVES CONSERVATION TRAINING
The Pew Charitable Trusts have awarded Winterthur a grant of $130,000 to establish a library conservation laboratory and Wand its art conservation program to include library and archives preservation. The first class will be admitted in the fall of 1993.
The training will be incorporated into the Winterthur/ University of Delaware Art Conservation Program, a three-year course of study leading to a master of science degree. Internship opportunities will be available for individuals outside the program who want to pursue a career in library and archives conservation.
CONSERVATION TOPICS PROMINENT AT PAPER & BOOK INTENSIVE
According to a report by Grant Collins in the September AICCM National Newsletter, the 1990 PBI in Maryland entailed
1) a 14-day seminar by Cathy Baker and Helen Burgess on in conservation, 2) a workshop on nonadhesive bindings like the one used on the Washington Diaries in the LC Conservation Office, 3) a hands-on session on conservation esthetics, 4) a field trip to the IC Research & Testing Office and Conservation Office, 5) a tour of the Smithsonian's conservation facilities.
BINDERY AUCTION REPORT
Elsi Hamilton, of the SOBBR Western Region, attended the auction sale of equipment and supplies from the Sydney Cockerell Bindery in March. She says the auctioneer had never seen that salesroom so full. There were some 300 people present, including representatives of Maggs Brothers, Cambridge University Library and the British Library. The sale totaled L52,600. She gives the prices paid for various pieces of equipment and paper lots, and goes on to say, "I have it from a horse's mouth that the equipment bought by Maggs Bros [a big buyer] will be put to good use and will continue to form the core of a bindery. It was bought on behalf of J. Paul Getty Jr., who inte0s getting up a bindery at the library he is building for his famous collection on his estate near Oxford."
BOOK CONSERVATION IN DOMINICAN REPUBLIC
Gary Frost presented a five-day course on book conservation for staff members of Centromidca November 26-30, 1990. The course focused on repair of bindings and structures for the sewing of manuscript fascicles. Centromidca is a regional conservation center for services to libraries and archives located in Santo Domingo, Dominican Republic.
NETWORKING FOR U.S. AND MEXICAN LIBRARIANS
The Transborder Library Forum Feb. 1 and 2 in Nogales, Arizona, is cosponsored by the Arizona State Library Association and the Asociacion Mexicana de Bibliotecarios and aspires to create an atmosphere for networking and information-sharing library professionals and staff as well as produce proposals for developing further cooperative activities. Preservation is one of the topics on the program: two discussion sessions will be led by Sharlane Grant (Head, Preservation Department, Arizona State University Libraries).
Anyone with an interest in sharing information with, as well as learning from, Mexican librarians might enjoy participating in these discussions. For further information write Jim Johnson, Executive Secretary, ASLA, 13832 North 32nd St., Suite Cl-7, Phoenix, AZ 85032 (602/971-3885; Fax 602-482-1011).
RED ROT RESEARCH FUNDED BY EEC
The Leather Conservation Centre has succeeded in winning approval for support from the European Economic Community under the STEP Initiative (Science and Technology for Environmental Protection) for a fundamental study into the deterioration of leather. The title of the study is The evaluation of the correlation between natural and artificial ageing of vegetable tamed leather and the determination of parameters for standardisation of an artificial ageing method."
This is a collaborative project in which five other European conservation laboratories will be taking part. Work is expected to start in January 1991 and run for three years.
Further information about the project can be obtained from Christopher Calnan, The Leather Conservation Centre, 34 Guildhall Road, Northampton, NN1 1EW, England.
CONTROL OF MAPS TRANSFERRED TO OCLC
The Mid-Atlantic Preservation Service (MAPS) and OCLC Online Computer Library Center have concluded an agreement that transfers control of MAPS, a nonprofit organization, to OCLC, also a nonprofit organization.
The MAPS Board of Trustees, composed of representatives of MAPS's founding members, voted unanimously to transfer control of MAPS to OCLC effective Oct. 11, 1990. Under a revised governance structure, OCLC becomes the sole member of MAPS. C. Lee Jones continues as MAPS's president. Dr. K. Wayne Smith, OCLC's President and CEO, will serve as Chairman of the MAPS Board of Trustees.
MAPS was founded in 1986 by Columbia, Cornell, and Princeton Universities, and the New York Public Library and the New York State Library to do high quality preservation microfilming for archives, historical societies, libraries and museums. MAPS will continue operations in its new building, which was funded with a $1.5 million grant from the Pew Charitable Trusts. It has 52 employees and operates an 18-camera microfilming service.
OCLC operates an international computer network used by more than 11,000 libraries in the United States and 36 other countries and territories, to help libraries locate, acquire, catalog and lend books and other library materials.
NEW LAW REQUIRES LABELING TO WARN OF CHRONIC HEALTH HA7ARDS
Art and craft materials containing substances that present chronic health hazards will have to be labeled to this effect, according to a law passed November 18. It requires conformity to ASTM standard D 4236-88, Practice for Labeling Art Materials for Chronic Health Hazards.
ASTM standards, like all voluntary consensus standards, are entirely optional if they are not written into a law as this one was. If they exist, they make writing and enforcement of laws such as this much easier. The new law on permanent paper, for example, refers to "the American national standards"
Laws regarding labeling on acute health hazards have been on the books for quite a while. This one covers materials with long-term action like lead, cadmium and cobalt.
(For more information see the November ASTM Standardization News.)