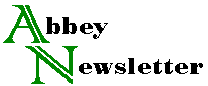 Volume 14, Number 6
Oct 1990
Nebraska Gets Planning Grant
The National Endowment for the Humanities (NEH) announced recently that it has awarded the Nebraska Library Commission $33,350 to develop a statewide preservation plan for Nebraska. The Nebraska Library Commission is serving as fiscal agent for this grant, which will be organized and administered through the Nebraska Documents Preservation Advisory Council. Formed in 1988, the Nebraska Documents Preservation Advisory Council is a cooperative preservation group which includes such agencies as the Nebraska State Historical Society, the Nebraska Records Management Division of the Secretary of State's Office, the University of Nebraska Libraries and NEBASE (Nebraska's OCLC network). Other members of the group are: the Nebraska Library Association, the Nebraska Humanities Council, the Nebraska Library Systems, the Nebraska Literary Heritage Association, the Nebraska Conservation Committee and PICKLE.
The grant from NEH will enable Nebraska to identify its preservation needs and priorities for paper documents and records. Solutions to problem will be proposed based on surveys of records repositories and on ideas raised at strategic planning meetings. Forty (40) delegates from across the state have been invited to participate in the meetings. The first meeting will be held Oct. 3-5 in Lincoln at the Cornhusker Hotel.
Among problems to be addressed by delegates is the brittle paper crisis facing repositories of Nebraska's written heritage. Based on surveys of libraries and county historical societies conducted in 1987 and 1988, preservation education and preservation microfilming are two recognized needs. The grant will assist the Council in seeking broader input and in publishing a plan of action.
Lisa Fox, SOLINET, Inc., has been hired as consultant for the project. Ms. Fox has worked with several states in the Southeastern United States to develop similar plans. For more information on the grant, please contact Katherine L. Walter, Project Director, at 402/472-3939.
Planning grants for state preservation programs were also awarded by NEH to the North Carolina Preservation Consortium and the Massachusetts Board of Library Commissioners.