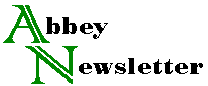 Volume 14, Number 5
Aug 1990
Positions Open
PAPER/BOOK CONSERVATOR
West Lake Conservators, Ltd.
West Lake Conservators, Ltd, established in 1975, seeks professional paper conservator with experience in book conservation to join a team of painting conservators, providing services to Central NYS. Our established clientele rages from AAM accredited museums, Historical Societies, Universities, historical sites, small museum, galleries and private collectors.
Opportunity exists to assist with painting conservation, share existing facilities, equipment, computer data base, and provide needed service to the area.
Our rural location in the picturesque finger lakes region of Skaneateles, NY, offers exceptional family life.
An in-house neighboring business, Michael Bixler Press and Letterfoundry, is a perfect companion. Their letterpress facilities, for the printing of ephemera and limited editions, include an extensive range of British Monotype compositions and display type-faces as well as three Vandercook proof presses and a 32-inch Heidelberg cylinder press.
Term and conditions are open to discussion. Contact: Susan Blakeney, Chief Conservator. West Lake Conservators, PO Box 45, Skaneateles, New York, 13152. 315/685-8534.
RESTORER
The Metropolitan Museum of Art - Watson Library (Bindery)
Responsibilities: Handle the physical processing, repair and conservation treatment of library materials. Assist in the instruction and supervision of volunteers. Handle the maintenance of equipment and conservation facility and departmental records. Work on all aspects of binding, conservation and preservation for the MMA libraries system. Other duties as assigned.
Qualifications: Experience in bookbinding is required with demonstrated skills in book repair, bookbinding,
boxmaking and paper repair. Good organizational skills with the ability to work and communicate well with people.
Salary: $23,470 (grade 17). Starting date as soon as possible. To apply send cover letter with a resume to: Elizabeth Biltchik, Personnel Associate, Employment Office,
The Metropolitan Museum of Art, 1000 Fifth Ave., New York, NY 10028.
MELLON INTERN FOR PRESERVATION ADMINISTRATION
University of Michigan
Responsibilities: Responsible for expansion of the Library's preservation program in the divisional and branch libraries. Outlines a broad preservation program for a specific collection, with particular attention to the replacement/reformatting of brittle books; develops and oversees implementation of procedures and workflows; develops and presents training modules for divisional library staff; writes narrative and statistical reports and other documents relative to the project. Participates with Preservation Office staff in managing ongoing program (brittle book replacement, conservation and book repair, bindery preparations, and microfilming) and in planning and implementing new preservation initiatives. Participates in staff and user education program, and in disaster preparedness and recovery training program. In addition, will be responsible for overseeing special projects as assigned; preparation of samples and surveys as needed; participation in planning and implementing grant-based initiatives. Supervision of staff and student employees may be required in carrying out responsibilities. Reports to Associate Preservation Librarian.
Requirements: MLS. Minimum of five years post-MLS experience; ability to plan and implement projects and to work independently; strong oral and written communication skills; demonstrated ability to work effectively with staff at all levels, representatives of other institutions, and the public. Also desirable is experience in a large academic or research library; successful management experience including planning, supervision, training, and budget responsibilities.
Salary commensurate with current level of experience up to a maximum of $31,500. Full benefits package. Applications received by October 15, 1990, will be given first consideration. Apply to Lucy Cohen, Manager, Library Personnel Office, 404 Hatcher Graduate Library, The University of Michigan, Ann Arbor, MI 48109-1205. A nondiscriminatory Affirmative Action Employer.
POSITION NOTE IN THE AUGUST IIC BULLETIN
The University of Oxford is looking for a Library Conservation Surveyor, to start by January 1991. This is a two-year position and will pay L12,879. Application deadline 19 October.