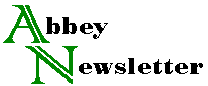 Volume 14, Number 4
Jul 1990
People
Lewis J. Bellardo, head of NARA's Center for Legislative Archives, is serving as interim director of the Preservation Policy and Services Division.
Barbara Sagraves has accepted the position of Head of the Preservation Office at Northwestern University Library (Evanston, IL 60208; 708/491-7786). She was formerly with the Special Collections Division of Michigan State University Libraries.
Susan Barger is taking a leave of absence from Johns Hopkins University from 1 July until 30 June 1991. The Department of Materials Science and Engineering there will forward her mail. She may also be contacted at 3 Moya Lane, Santa Fe, NM 87505 (505/988-5709).
Nancy Purinton joined the staff of the CCAHA in Philadelphia in May. She was formerly with the Norton Simon Museum in Pasadena.
Robert Aitchison, Mark Watters, and Paula Volent have formed a new partnership, Aitchison, Watters and Volent, Conservators of Art on Paper, at 740 N. La Brea Ave., Los Angeles, CA 90038 (213/938-4428).
Leah Wollenberg, a founding member of the California Hand Bookbinders, was honored by a memorial retrospective of her hand bookbindings exhibited from April 30 through July 9 at the Book Club of California. Born in 1906, she began binding in 1932 and studied under Octavia Holden and Belle McMurtrie Young, and later with Peter Fahey. She died March 28, 1990 from a stroke.
Janice Schopfer recently returned to the Paper Conservation Lab at the Legion of Honor, San Francisco, after a year at the Pacific Regional Conservation Center.
Julie A. Page assumed the post of Preservation Librarian at the University of California-San Diego in the Fall of 1989.
Vicki Lee is the new conservator for the Schoenberg Conservation Center, Missouri Botanical Garden Library. She is a graduate of the two-year course at the North Bennet Street School.
Don Rash opened a new fine bookbinding studio June 3, at 59 East Eighth St., Wyoming, Pennsylvania (717/693-6150).
Sally Roggia will be Acting Assistant Professor in the School of Library and Information Studies at the University of Hawaii at Manoa in Honolulu, beginning in the Fall of 1990. Besides teaching the course in collection development, she will teach in the specialist degree program in archives and records management aid contribute to the development of the planned specialist degree program in preservation management.
Nicholas G. Yeager has been appointed Director of the Center for Book Arts. He was previously in the Rare Books and Manuscripts Division of NYPL; before that he taught bookbinding and calligraphy in Illinois, Texas and New York.