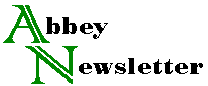 Volume 14, Number 3
Jun 1990
People
Karen Preslock, formerly librarian in the collection of conservation material at the Smithsonian, has become an entrepreneur in a partnership called BookQuest, the Online Book Network, at 135 Village Queen Drive, Owings Mills, MD 21117 (301/581-0394, 800/627-2216).
Richard Baker, formerly Chief Conservator at the American Antiquarian Society, has opened a private practice in library and archives conservation. His address is 1712 (Rear) South Big Bend Boulevard, St. Louis, MO 63117 (314/ 781-3035).
Robert J. Strauss, former Executive Director of the CCAHA in Philadelphia, has established a consulting firm to focus an strategic planning, project design and management, as well as fund-raising for nonprofit institutions. He will work in a similar capacity with private businesses that are offering preservation-related services. His new address is 2411 Golden Valley Rd., Minneapolis, MN 55411 (612/5215218).
Maria Fredericks has accepted the position of Associate Conservator for Library Collections at the Winterthur Library. She can be reached by telephone at 302/888-4633, or by mail at the Winterthur Library, Winterthur, DE 19735.
Duane Watson was appointed Association Librarian for Preservation at the New-York Historical Society, as of April 20.
Gabrielle Fox is back in Cincinnati again, at 3673 Stettinius Ave., Cincinnati, OH 45208 (513/871-6613). A graduate of Guildford's two-year course in bookbinding, she returned to England and worked for eight years as a self-employed binder and teacher. She is continuing this sane kind of work in the U. S.
Paul Needham has left the Pierpont Morgan Library after 18 years to join Sotheby's (New York) as Director of its Book and Manuscripts Department.