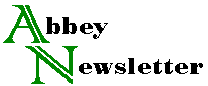 Volume 14, Number 1
Feb 1990
Queries
Tom Conroy needs information on Peter McLeish, son of Charles McLeish, for his "teaching genealogy" of binders. He taught Matthews and Middleton, but who taught him?

Tom also needs information on Alex Vaughan, the author of the excellent textbook and a teacher of Arthur Johnson. Write Tom at 1526 Edith, Berkeley, CA 94703 (415/524-9518).
The Association for Library Collection and Technical Services' Task Force on Bibliographic Control of Master Negative Microforms is responsible for developing national guidelines for the cataloging of preservation microfilm. They are interested in hearing from members of the profession on the subject of the USMARC Field 583 (Preservation Action Note). Specifically, they would like to gather the following information prior to May 1, 1990:
Who is currently using the 583 field to record preservation action information?
Where has the 583 been implemented? (In what systems?)
Has anyone standardized inputting requirements for types of actions and if so, would they share any documentation available?
If someone is not currently using the 583 but intends to, could they please describe how they will be using it?
Please send all responses to: Nancy Elkington, Chair, ALCTS Task Force, 701-A East Homestead Road, Sunnyvale, CA 94087.
Most of the major funded preservation projects seem to involve only the literature of the humanities. Do science books not go brittle? Are microfilming programs going on in circles that are out of touch with the arts and humanities institutions? If any readers know of any major preservation projects in science collections, besides the NLM's National Preservation Program for the Biomedical Literature or the MIT task force to preserve the records of science (archival material), please drop a note to Ellen McCrady, Abbey Publications, 320 E. Center St., Provo, UT 84606, or call 801/373-1598.