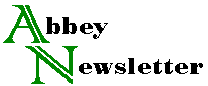 Volume 13, Number 8
Dec 1989
Positions Open
Job announcements in the Abbey Newsletter are billed at a rate of $50 for the heading and first 10 lines (62 characters per line), plus $2 per line thereafter; or whatever the institution can afford.
EXECUTIVE DIRECTOR
The Conservation Center for Art and Historic Artifacts
The CCAHA seeks a dynamic, professional leader. The conservation center is a non-profit regional conservation laboratory specializing in the conservation of works on paper including art on paper, library and archival materials, photographs, and other paper-related materials for over 175 member-institutions and other private and institutional clients. Additional services provided include consultation and educational programs. Under the authority of a board of directors, the executive director is responsible for overall administration and operations, including management of a $650,000 annual budget and a 20 member staff, marketing of services, fund raising, and long-range planning.
Position requires strong administrative skills and proven ability to represent institution policy. Training in conservation need not be a requirement. Significant relevant experience in management required.
Send application, resume, and three references to Search
Committee, The Conservation Center for Art and Historic
Artifacts, 264 South 23rd St, Philadelphia, PA 19103.
PRESERVATION LIBRARIAN
Northwestern University Library
Responsibilities: The Preservation Librarian is responsible for the design, coordination, management and evaluation of a variety of programmatic activities and projects. These include assessing preservation needs of collections and developing plans to meet those needs; coordination of preservation decision-making activities (identifying materials in need of preservation, searching, working with bibliographers and other selectors, and either implementing decisions or sending material to other departmental units for implementation) for all preservation options (e.g., microfilming, conservation treatment, photocopying, replacement); designing, implementing and evaluating appropriate intra- and inter-departmental procedures; compiling and evaluating relevant statistics and managing appropriate funds; managing departmental bibliographic control issues; and serving as the liaison with technical services functions throughout the library. The Preservation Librarian also serves as an active member of the microfilming project team, and manages a small preservation reference collection held in the Preservation Office.
The Preservation Librarian works with the Department Head to design, coordinate, and manage programs in disaster prevention and recovery, preservation education and outreach, and environmental monitoring; actively assists the Department Head in the general planning, evaluation and shaping of the Library s comprehensive preservation program; manages the Preservation office; and plays an important role in coordinating the activities of the Department, working in close cooperation with the Department Head, the Head of Materials Processing, and the Head of Conservation Treatments, as well as other Preservation Department staff, and with many staff throughout the library.
Qualifications: MLS degree (preferred) or equivalent; demonstrated interest in and commitment to library preservation; one or more years relevant experience preferred but not required; excellent interpersonal and communication (both oral and written) skills; ability to take initiative and work independently within a team framework, ability to thrive in a dynamic, demanding, and ever-changing work environment.
Salary range: $21,000 - $24,000.
For further information contact Richard Frieder, Head, Preservation Department, Northwestern University Library, Evanston, IL 60208, 708/491-7599.
Send application to Ann Smith, Personnel Manager, Northwestern University Library, Evanston, IL 60208. AA/EOE.
PRESERVATION ADMINISTRATOR
New York State Archives and Records Administration
The November 1989 issue of SAA Newsletter has an announcement of a position in the Preservation Unit of the Bureau of Archival Services. The position requires a Masters degree and four years experience or equivalent. Salary is $37,772. Interested parties should contact the Personnel Office, Box SC-15 New York State Education Department, Washington Aye, Albany, NY 12234, for a complete job description and application procedures.
INTERNSHIPS
Smithsonian Institution/Conservation Analytical Laboratory
The Smithsonian Institution has several internships in paper conservation available for 1990-91. These include postgraduate, third-year, pre-program and summer intern-ships. For names and telephone numbers of the conservator under which the internships take place, please call or write Internship Secretary, CAL/MSC Smithsonian Institution, Washington, DC 20560, 301/238-3700
PAPER CONSERVATOR
Library of Congress
A vacancy announcement has been received for this position, which was announced in the last issue of the Abbey Newsletter. The only difference appears to be a slight rise in the salary to $28,852 - $37,510. The closing date is listed as December 21, 1989, but this may have been extended. Inquire.
PAPER CONSERVATION INTERN
The Pierpont Morgan Library
Nine-month, non-renewable internship for paper conservation student who would work in the Conservation Bindery and the Paper Conservation Laboratory under Deborah Evetts, Book Conservator, and Patricia Reyes, Mellon Conservator, at the Pierpont Morgan Library.
Candidates should have completed three years of training in a recognized conservation school or have equivalent training and professional experience. US citizenship or permanent residency required.
Salary: (from 9/1/1990 to 5/31/1990) $15,000 (3/4 of annualized salary of $20,000). Additional benefits include health and major medical insurance, 17 days paid vacation, and support for attending AIC conference.
Send resume, a short description of interests, letters of support from two conservation professionals familiar with your work, and copies of two reports on conservation treatments accomplished since the completion of academic training or apprenticeship to Miss Evetts or Mrs. Reyes at the Pierpont Morgan Library, 29 East 36th St., New York, NY 10016. Applications will be received until the position is filled.
PRESERVATION INTERN/CONSERVATION DIVISION
The New York Public Library
The Research Libraries of the New York Public Library offer an excellent opportunity to a self-motivated individual with an MLS and proven leadership potential, initiative and promise.
Under the supervision of the Assistant Director for Conservation, the successful applicant will receive orientation in administering collections management and preservation programs; and will help plan and carry out specific projects, attend meetings and participate in workshops and staff training programs.
Qualifications: At least two years professional library experience is required as well as training in preservation administration and executing conservation techniques gained through related work experience or formal program completion in conserving library research materials. Familiarity with statistical analysis, sampling techniques and systems analysis desirable. Prior work experience in a research library or archives would be an asset.
Salary: $27,357 plus comprehensive benefits.
Interested applicants should send their resume to: Lauren Botwick, Personnel Representative, The New York Public Library, Human Resources Department, 8 West 40th St., 2nd Floor, New York, NY 10018. EOE
CONSERVATION TREATMENT SUPERVISOR
The Newberry Library
The Newberry Library seeks a highly skilled book conservator to supervise the Conservation Treatment Section of its Conservation Department.
Responsibilities: Specify, perform and document conservation treatment of bound format materials; manage and supervise Conservation Treatment section; assist in exhibit preparation; assist in solving problems of storage, handling and exhibition; participate in hiring, training and evaluating staff. This position reports to the Preservation Librarian.
The Conservation Treatment section consists of 5.5 FTE. Activities include: Conservation treatment of bound and flat library materials; exhibit preparation; environmental monitoring; in-house casebinding; boxmaking and contract binding preparation.
Qualifications: Substantial experience as a book conservator; knowledge of conservation theory and technical skills; previous supervisory experience; good communication management and planning skills; ability to motivate and teach others.
Earliest date available: 3/1/1990
Salary: $21,000-$23,000 depending upon qualification. Group life, health insurance, 3 weeks vacation in first year (4 weeks thereafter), 2 personal days, 6 paid holidays, TIAA/CREF after 3 years, bookshop discount, book purchase service.
Send letter of application, resume and list of references to Rita Fitzgerald, Personnel Office, The Newberry Library, 60 West Walton St, Chicago, IL 60610. EOE/AAE.
LIBRARY CONSERVATOR
Kierkegaard Library, St. Olaf College
The Kierkegaard Library at St. Olaf College seeks an experienced book conservator for a 2½ year appointment starting as early as 1/1/90. The first 6 months, the conservator will work ½ tine at Carleton College Library to complete 2-year joint conservation program already underway. Final two years conservator will work full-tine for the Kierkegaard Library, a special collection, in a grant-funded position. Both libraries have established fledgling conservation programs needing consolidation and development in the undergraduate college setting. Primary concern for both institutions at this time is in individual treatments for books needing restoration, repair and preservation. Books in need of attention date from the 17th century to the present.
Requirements: Graduate degree from recognized book conservation program with related experience performing conservation treatments or equivalent experience in conservation of books and pamphlets. Sound knowledge of historical book structures and bindings as well as restoration techniques appropriate to such books, including rare books. Manual ability in performance of conservation treatments, rebinding, resewing, paper mending, protective enclosures, corner strengthening and fine binding. Ability to work without assistance in a basically equipped preservation laboratory.
Salary: Minimum $20,000 dependent upon qualifications.
Please send resume and references to Professor Stephen Evans, Curator, Kierkegaard Library, St. Olaf College, Northfield, MN 55057. AA/EOE