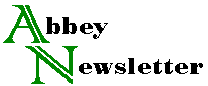 Volume 13, Number 7
Nov 1989
Conservation Graduates and Interns
At the Folger Library in Washington, Angela Craft and John Bertonaschi are incoming interns.
The book conservation interns at LC are JoAnne Martinez, from the Columbia program; Maria Esteva, from the Biblioteca Nacional de Argentina, on a Fulbright; and Susan Herion, from East Berlin, also on a Fulbright scholarship. Sarah Wagner, a former intern from Winterthur, is there on a temporary appointment. There are two interns in the Paper Section: Stephanie Watkins, from Buffalo; and Helen Young, from Winterthur.
Third year interns from Buffalo who are specializing in paper or photographs are: Stephanie Watkins, mentioned above; Cecile Davis, interning at the Balboa Art Conservation Center, in paper; and Paul Messier, interning with Anne Cartier-Bresson in Paris, in photographs. Lisa E. Hall and Lage Carlson have completed their internships and graduated.
Laurie Samuel, who specializes in paper in the New York University program, is interning at the New York Historical Society.
Events
Events notices are not posted on the web. They are removed to protect the peace and privacy of the people to whom telephone and fax numbers are reassigned when the original event host moves.