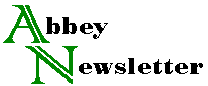 Volume 13, Number 7
Nov 1989
The California Earthquake
At 5:04 pm on October 17, the San Francisco Bay area experienced the biggest earthquake since 1906, measuring 6.9 on the Richter scale (later upgraded to 7.1). This time there were no fires, but there was structural damage and interruption of utility service. Deaths and injuries, and people left homeless, have been reported in the media.
Many colleges and universities shut down to assess the damage, some just for one day, some for longer. No serious injuries or deaths were reported on campuses, and classes resumed within a week, though some had to be relocated. Some campuses (Mills College and the California College of Arts and Crafts in Oakland, and the University of California at Berkeley) had only minor damage. Others were harder hit: a flood from a broken water main at the College of Alameda; destruction of some of the computers in St. Mary's College at the computer center, from fallen bookcases and light fixtures; and serious damage to the old wing of the green Library at Stanford University, which housed the Preservation Department and the Department of Special Collections and Archives. In Santa Cruz, only 15 miles from the epicenter, there was no significant damage to the University of California library; at San Jose, also nearby, 12 of the city library's 17 branches closed and shelving buckled. Differences in amount of damage sustained by different buildings in the same area have got to depend on how earthquake-resistant the structure and materials are.
Tom Conroy, author of "The Round Plough" (June issue of this Newsletter), reports that he was in the San Francisco Public Library when the quake hit. (That library has since been declared structurally unsafe and closed indefinitely.) He got home to Berkeley by ferry, after waiting three hours in line. In Oakland, he says, damage was spotty. The City Hall, built in 1910, was badly damaged and will probably have to be torn down. People there are still expecting the Big One from the Hayward Fault, the other main fault in the Bay area. The October 17 quake was caused by the San Andreas Fault. It did not relieve stress on the Hayward Fault, which runs under the Berkeley-Oakland area.
Walter Henry, conservator at Stanford University, reports that about half a million books fell off the shelves there, but that damage to the collection was minimal. The top floor of the Green Library's old wing, on the other hand, was hard hit. Although the steel frame remained intact, and the newly-braced seven-tier stack came through all right, the masonry walls were cracked and dislodged in many places. He was on the top floor when it hit, and he says it was the scariest thing he had ever encountered in his whole life: the building shook and swayed, and heavy things were falling all around. He got under a desk for safety. Fortunately (although luck played no part in this; all credit goes to the humans involved), they had planned fairly well for earthquakes in the department. There were no explosions or fires in the conservation lab, no damage to collections material in for treatment, and only one overturned bottle among the chemicals. There was some roof damage, but they covered it up and there was no water damage when it rained the following weekend. Since the upper floors of that wing are now condemned, no one is allowed heck in for anything.
Cynthia (Tie) Gozzi, Director for Technical Services there, has sent out a number of status reports on electronic mail. Here are some excerpts pertaining to the Preservation Department.
Although the University was closed, earthquake recovery was initiated on Wednesday, October 18, when SUL [Stanford University Libraries] Directors net to determine the appropriate course of action. Among other, more serious damage, hundreds of thousands of books and other library materials fell from their shelves during the quake. Re-shelving efforts, which began on Thursday, October 19, continue at this time [Oct. 26].

To date, a good number of libraries have been quick to resume as many of their services and operations as possible. However, since the quake, Tech Services staff (approximately 125 people) have been unable to reoccupy their workspace in the west wing of the Green Library....

The Preservation Department chief, Connie Brooks; Secretary Liz Wise; Head of Conservation Treatment, Eleanore Stewart; Assistant Conservator, Walter Henry; and Mellon Intern, Evelyn Frangakis, have found a temporary home in the Rare Book Room of the Art Library. They can be reached at 3-9507 or through e-mail (cn.con). Connie Brooks can also be reached through e-mail at cn.clb.

The Department Chief, Connie Brooks, and Conservators Eleanore Stewart and Waiter Henry, have advised Branner Library staff about disaster recovery procedures for maps and books that received post-earthquake water damage.

Brittle Books Office staff, responsible for preservation microfilming efforts, have been temporarily relocated to Green East. Three members of the Repair Unit are being relocated to the Meyer Library and will resume the normal repair program. Another staff member will "float" to one or more branch libraries to help with collections damaged during the earthquake.

Other Preservation Department staff have yet to be relocated, but are keeping busy. Staff of the Binding and Finishing Unit are currently reshelving books in Green East.
Stanford had no earthquake insurance because of its high cost and limited coverage. Damage to its buildings alone was estimated at $160M, over half the estimated damage to all the colleges and universities in northern California, according to an article in the Nov. 1 Chronicle of Higher Education. Like other institutions, it will seek federal and state assistance.
Other institutions that have closed their libraries for inspection and repairs are UC Santa Cruz (two floors of McHenry Library), San Jose State University (three floors of Clark Library and one floor of Whalquist Library), San Francisco State University (damaged bookshelves in the Leonard Library), and Golden Gate University (60% of the Law Library and part of the general library).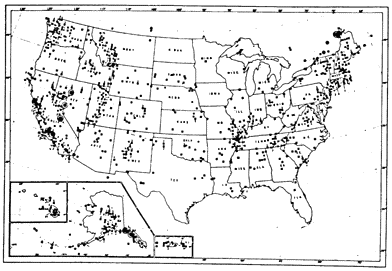 Earthquakes in the United States
(NOAA Data: Intensity V and above, through 1970)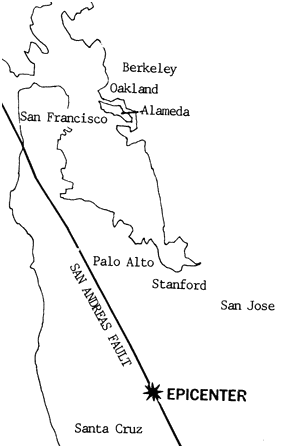 The Bay Area Earthquake Zone