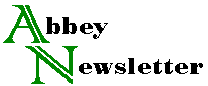 Volume 13, Number 5
Sep 1989
The Ferguson Slipcase
by Wendy Smith
Assistant Director, Preservation Services, National Library of Australia, Canberra ACT 2600, Australia

Preservation Services Section at the National Library of Australia has recently developed a simplified protective slipcase system for use on important material in the Australian heritage collections. Books held in the Ferguson Room, the Library's showpiece for Australiana, are the first collections to be given this treatment.

All books in the Ferguson Room are stored on open shelving. Some material is quite closely packed, and damage is occurring when material is removed from the shelves for use. The condition of the material varies; most material has had little treatment beyond surface cleaning. It is not expected that a significant number of books will receive full conservation treatment in the near future due to lack of staff resources.

The solution to this situation was seen to be some form of phased preservation. The design known as the phase box was suggested, either in grey-and-white utility board or in cream colored Ligfree (TM) board. Both these suggestions were rejected on the grounds of their lack of esthetic appeal. A modified version of the phase box casebound into a buckram case was also unacceptable.

A small number of clamshell boxes were made on a trial basis. These were considered very satisfactory from the point of view of esthetics, but there are over 5000 items in the Ferguson room needing protection, and the clamshell project would have taken many years to complete.

Conservation staff attempted to design a simpler case, which would give a certain amount of protection, and be relatively easy to construct, inexpensive and esthetically pleasing. The result is our custom-designed Ferguson slip-case (Figures 1-3).

The back has been omitted in order to simplify construction, and to reduce the time needed to make each case. The slipcase is made slightly deeper than the book it contains in order to give protection to both the spine and fore-edge. To prevent damage during removal and insertion of the book, a ribbon pull is attached into one side of the slipcase. The basic case is made by gluing together sections of grey and white utility board with PVA, then covering with buckram chosen to tone with the original binding of the book. The result, on the shelves, is a randomly colored "natural" appearance, unlike the uniformity of phase boxes.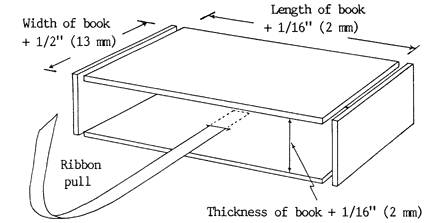 Figure 1. Construction of a case.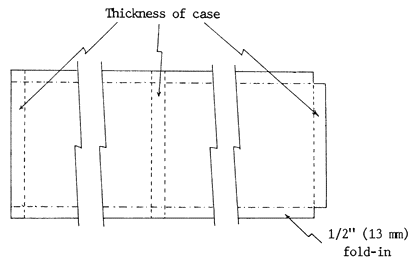 Figure 2. Buckram cover.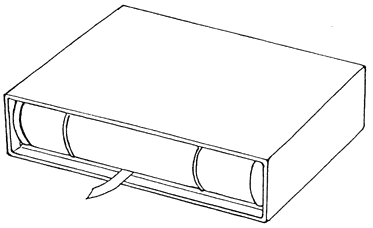 Figure 3. Completed slipcase.
This basic design gives excellent protection to the book at its head and tail, as well as to the spine and fore-edge. The sides are protected from abrasion against the adjacent book. To give further protection--to hold on loose covers and to protect the book from abrasion against the slipcase--a loose cover of 3-nil polyester film is wrapped around the book. The identifier for the book, such as its catalog number, is also placed on this cover if the spine is not already stamped.
The simplicity of the design is such that its construction can very easily be mastered by technical staff. Our bookbinder provides some instruction and supervision to start, but after a short period no supervision is needed. The average time taken to complete a slipcase, including polyester cover, is around 45 minutes, and costs us about A$20, including materials and labor. This compares with two to three hours to make a clamshell box, and a cost of around A$75.
Librarian staff are very pleased with the result. It is easy to handle, looks good on the shelves, and because it is quite quick to make, they can see that progress is being made in improving the storage of this collection. One disadvantage--that each slipcase adds about 5 mm to the width of the book--means that ultimately extra storage will be needed.
With two contractors working part-time, the project has been progressing steadily since 1987. Some 3,000 octavo volumes have been boxed and returned to the shelves. They are holding up well to moderate use, with no signs of sideways slumping. Work has recently commenced on larger volumes, with no modification of method being necessary.
Any enquiries regarding the slipcase project should be directed to the author at the above address.
Materials used in slipcase construction
Grey/White Utility Board. 2 mm thick, 60 point, pH 8.5 (of white liner), 3% alkaline buffering. Supplied by Conservation Resources International.
Oxford Library Buckram. Water resistant, available in wide color range. Supplied by Winterbottom Products (Aust) Ltd., Seven Hills, NSW, Australia.
Birch Satin Ribbon. 7 mm wide, single-faced polyester. Supplied by E.C. Birch P/L, Richmond, Vic., Australia.
Staybond 202N or 378. PVA adhesive, flexible, internally plasticized. Supplied by International Adhesives and Resins P/L, Seven Hills, NSW, Australia.
Mylar. Polyester film, 3 mil. Supplied by Conservation Resources International.