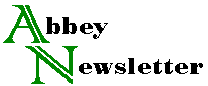 Volume 13, Number 5
Sep 1989
Computers For Conservation Records
Several conservators interested in computerized record keeping for conservation, including John Burke, Debra Evans, Robert Espinosa, Bob Futernick, and Walter Henry, met at the Western Regional Paper Conservation Laboratory in San Francisco July 20 to exchange information.
Paper pH Information To Be Included In Book Reviews
The Choice editorial board and editors have approved the request of the Commission on Preservation and Access that Choice add acid-free paper information to the bibliographic entry that accompanies the review. In a June letter to the Commission, editor and publisher Patricia E. Sabosik states that Choice is now working with its computer vendor to add an additional field to its bibliographic record for the acid-free paper indicator. "We plan to complete this process in the next few months and begin publishing reviews with the indicator by the end of the year," she notes.
Choice will get the information from the book itself or from the LC MARC record. They will not physically test the paper for a pH value, but rather will rely on the information provided by publishers.
Peter Sparks To Work With CCAHA
Robert J. Strauss, Executive Director of the Conservation Center for Art and Historic Artifacts, announced August 28 that Dr. Peter G. Sparks, Director for Preservation, the Library of Congress, has entered into an agreement with the Conservation Center to serve as a consultant to libraries, museums, archives, historical societies and corporations, on the preservation and conservation needs of their collections. Dr. Sparks will work with the Preservation Services Office of the Conservation Center.
"I am extremely excited about this opportunity to work with Dr. Sparks," Strauss said. "Peter was instrumental in the formation of the Conservation Center." Dr. Sparks served as a consultant to Marilyn Weidner in 1976 and 1977, during its formative years. He also served as the Center's first Chairman of the Board. "Not only was Dr. Sparks instrumental in the formation of the Conservation Center, he also was involved with the training of Elizabeth Kaiser Schulte and Lois Olcott Price, who are currently Senior Conservators at the Center," Strauss said.
Dr. Sparks will be available to clients of the Center to assist in strategic planning for preservation. "Peter's background in research, teaching and administration will broaden and add depth to our current programs," Strauss noted.
In addition to working with the Center, Dr. Sparks is continuing his duties at the Library of Congress. He anticipates that he will move permanently to the Philadelphia area by January 1, 1990. At that time he will be available for consultation through the Center as well as independently through his company, Peter G. Sparks, Inc.
Archives Conservation Training Considered At Meeting
Buffalo State University's graduate Art Conservation Department was awarded $25,553 from the National Endowment for the Humanities for a three-day meeting, held August 3-5, to define the content of archives conservation training and consider whether established art conservation training programs, such as that at Buffalo State, can fulfill that need. A national panel of nine senior archivists, archive conservators and preservation administrators was to meet at the college August 3-5. The report of their discussions is to be completed by December and submitted to NEH.
Cathleen Ann Baker, associate professor of art conservation, is the project director of the grant. Dr. Christopher Tahk, director and chairman of the department, will be working as the project manager.
Mills College Closes Book Arts Program
Ampersand had a full page on the closing down of the book arts program at Mills College. It opened with a short summary:
On May 25, Mills College President, Mary Metz, sent a letter to those who had written asking her to intercede in the Board of Trustees' decision to close the graduate program in Book Arts.

Because the Art Department had voted to oust the Book Artists and the English Department would not have them, the only hope to save the Book Arts program lay with the library, which does not have a degree program. The Educational Policy Committee has dismantled the degree program but has voted to establish a Center for Book Arts in the new F. W. Olin Library, under the direction of rare books librarian Martin Antonetti.

The new program will not offer classes or a possible major, but will continue to offer workshops in printing and bookbinding by visiting artists, maintain a publishing program as well as commissioning artist's book works, and host lectures, exhibits and events.
Alkaline Paper In Japan, Hong Kong & Korea
Tish O'Connor, of Perpetua Press (4237 Newdale Dr., Los Angeles, CA 90027), has her books printed in Japan, and has been wondering what kind of paper was available to the printer there. She wanted alkaline, but was fairly sure the printer would not know which of the available papers met this spec, so she sent him a pH pen. Last month he sent her the results, and she reports,
Our samples on New Age, U-lite, and Top Kote all passed the "pen" test. Six books we produced in Hong Kong in the last three years likewise passed, so acid-free papers are available there. Not one Korean sample passed my test. Since so many art books are produced in Asia, this information will be of interest to many publishers.
German School Opens Specialty In Paper Conservation
For the first time students of restoration and conservation of manuscripts, prints and drawings and book illumination will be accepted for the winter term 1989/90 at the Polytechnic Cologne. Entry qualifications include three years of practical work relevant to the course and evidence of artistic ability valuable to the course. Applications for the aptitude test must be sent direct to the Polytechnic Cologne not later than September 15, 1989. Forms and information from: Fachhochschule Köln, Fachbereich Restaurierung und Konservierung von Kunst- und Kulturgut, Claudiusstrasse 1, D-5000 Cologne 1,. West Germany.
News Of Standards From NISO
Z39.48-1984, Permanence of Paper: Subcommittee II met on January 17, 1989, to review data from the Institute of Paper Chemistry report on coated paper testing. (This standard is currently being revised to include coated paper.)
Z39.65-198x, Environmental Conditions for Storage of Paper-based Library and Archival Materials. A second draft has been circulated to the committee, and the chair has done additional work based on comments received. Subcommittee R was to meet May 12, 1989. Chair: Bill Wilson, 1401 Kurtz Rd., McLean, VA 22101, 703/356-4981.
Z39.66-198x, Durable Hard-Cover Binding for Books, is mow available for comment. Factors contributing to a durable binding are described, including endpaper attachment and reinforcement, the method of binding the leaves together, rounding and backing, case making and casing in. Materials specifications are provided for adhesives, boards, covering materials, endpapers, linings, and thread. Compliance with this proposed standard is recommended for important works of fiction and nonfiction, scholarly monographs, collected editions, books intended for the library market, and reference books. The standard does not apply to textbook binding or commercial library binding.
All interested parties are invited to participate in the review of Z39.66-198x. The draft standard costs $25 and can be ordered from the National Information Standards Organization, P0 Box 1056, Bethesda, MD 20817.