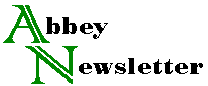 Volume 13, Number 4
Jul 1989
People
Robert Futernick gave a workshop last December at the State Library of Victoria in Australia, entitled "Zen and the Art of Paper Conservation."
Mark Roosa, formerly an Andrew W. Mellon intern in preservation administration at the Library of Congress, is now the Preservation Officer at the University of Delaware Library, Newark, DE 19717-5267. His wife, Maria Fredericks, began work as Conservator at the Center for Conservation of Art and Historic Artifacts in Philadelphia the week of June 5.
Richard Baker has resigned his position as Chief Book and Paper Conservator at the American Antiquarian Society in Worcester, Mass., and is moving to St. Louis, Missouri, where his wife has accepted a new position.
Heinke Pensky-Adam resigned on April 1 as Head Conservator at Midwest Book and Paper Conservation, do Monastery Hill Bindery. She is now in private practice in her own home workshop at 4947 West Jarvis, Skokie, IL 60077 (312/ 674-9147).
Melanie Martin has taken a temporary post as Conservation Assistant in the conservation laboratory of Trinity College Dublin.
Barbara Roberts is now in Seattle, working as a conservator in private practice, and as a hazard mitigation consultant. Her address is 2413 Fifth Ave. W., Seattle, WA 98119 (206/281-9090).
Thea Jirat-Wasiutynsky is now heading the Paper Objects Conservation program in Queen's University's Master of Arts Conservation Program in Kingston, Ontario.
Mary Lynn Ritzenthaler and James Gregory Bradsher were married on April 15, 1989.
Griselda Warr has left the job of Conservator for Rare Books at Princeton University Library.
"One preserves books not just out of an instinctive clinging to the artifacts of memory or solely because books have been the companions of democracy and spurs to dynamism in our society. We also keep books because they are the individual's portable, affordable link with the memory, mind, and imagination of the rest of humanity--a moral antidote, if you like, to the creeping passivity, parochialism, and shortened attention spans of our video culture."
-James H. Billington, speaking at the Midwinter Meeting of the American Library Association, 1988