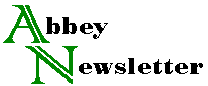 Volume 13, Number 3
Jun 1989
Queries
Margot M. Wright is doing a systematic evaluation of the adhesives and consolidants used in hook and manuscript conservation, and says she is very interested in hearing from U.S. and Canadian conservators, as well as those in the U.K. She is most interested in the organic polymers, synthetic or natural, which may be used in book and paper repair and other aspects of archival conservation. Her survey is being carried out with the support of the British Library. Tests will be carried out to evaluate the permanence of as many materials as possible and the results will be published in due course.

The materials may be identified by trade names, chemical names or descriptions.

Write Margot M. Wright, University College London Institute of Archaeology, Dept. of Archaeological Conservation and Materials Science, 31-34 Gordon Square, London WC1H 0PY, England.

Scott Haskins is now preparing to pull together his notes and experiences from the last ten years and publish a paper on the use of silicone pressure sensitive adhesive transfer tapes. The product was once produced by Dennison and is now being produced by Flexcon. Alterations in the components of the adhesive have changed its performance over the years, but it appears that both supplier and the material are now stable enough to warrant presenting the material for conservation use. In preparation for the paper, artificial aging tests will be performed, again. Therefore, while in the process of writing the paper and waiting for test results, be would like to make available samples of Densil 2078, while they last, if there is anyone interested in seeing what this product is like. Along with the sample, he will include a technical sheet and a brief description of some of its uses. Presently, its applications appear to be most useful in paintings, paper, and textile conservation. Please contact: Scott M. Haskins, Conservator, Fine Art Conservation Laboratories, P0 Box 23557, Santa Barbara, CA 93121 (805/564-3438).

URL: http://
Timestamp:
Retrieved: