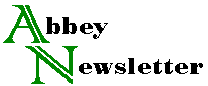 Volume 13, Number 2
May 1989
Authors and Publishers Pledge to Use Acid- Free Paper
There was a "Commitment Day" ceremony at the New York Public Library on March 7, honoring the 46 authors and 40 publishers who had signed the prominently-displayed "Declaration of Book Preservation." Like the Declaration of Independence, it was large, attractively calligraphed, and followed by a number of signatures. The big-city press was there in force, taking pictures and crowding around to ask the famous authors questions after the speakers had stepped down. Later their stories appeared in major publications, e.g. Newsweek for March 20, on p. 80. The New York Times for March 16 carried a full-page replica of the Declaration and all the signatures.
The text reads as follows:
"We, the undersigned authors and publishers, hereby declare our commitment to use acid-free paper [in footnote: subject to availability] for all first printings of quality hardcover trade books in order to preserve the printed word and safeguard our cultural heritage for future generations."
Among the authors are Isaac Asimov, Joan Didion, Allen Ginsberg, Barbara Goldsmith (whose idea this was in the first place, and who rounded up the publishers), George Plimpton, William Safire, Maurice Sendak, Susan Sontag, Tom Wolfe and Kurt Vonnegut. The complete list of publishers is given below, as of March 7. It is still growing.
| | |
| --- | --- |
| Bantam/Doubleday/Dell | William Morrow Inc. |
| Beacon Press | Newmarket Press |
| George Braziller, Inc. | W.W. Norton & Co. |
| Columbia University Press | Ohio University Press/ |
| Cornell University Press | Swallow Press |
| Doubleday | Princeton University Press |
| The Free Press | Random House |
| N. Evans & Co. | Random House Adult Trade |
| David R. Godine, Publisher | The Rosen Publishing Group |
| Grove Press | Shambhala Publications |
| Harper & Row | The Shoe String Press |
| Harvard University Press | Simon & Schuster |
| The Hearst Trade Book Group | Smithsonian Institution |
| Houghton Mifflin Co. | Press |
| Henry Holt & Co. | Summit Books |
| Alfred A. Knopf | Syracuse University Press |
| Louisiana State University Press | TFH Publications, Inc. |
| McGraw-Hill, Inc. | Ticknor & Fields |
| Macmillan | Time Inc. Book Company |
| Meckler Publishing | Walker & Co. |
| | Yale University Press |