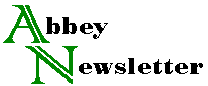 Volume 13, Number 2
May 1989
William Anthony, 1926-1989
William Anthony, University of Iowa Conservator, died on Wednesday, February 8, 1989. He was born in Waterford, Ireland on November 9, 1926. He was known throughout the United States and internationally as one of the foremost conservators and master bookbinders. A superior craftsman, Mr. Anthony began his studies in the fine art of bookbinding as an apprentice at Croker & Co. Waterford Bookbinding at the age of 16. He spent many years as a journeyman at various firms in Ireland and England including Healy' s, Dublin; Clarendon Press (Oxford University Press); Watkins & Watkins, London; Bailey Bros., Croydon; and F. G. Marshall, Surrey.
In 1964 Mr. Anthony began his career in the United States as studio director for The Cuneo Press, Chicago. From 1973 to 1980 he was senior partner in the firm of Kner & Anthony Bookbinders, and in 1980 became president of his own company, Anthony & Associates. In 1984 Mr. Anthony was appointed University Conservator at the University of Iowa. In this position Mr. Anthony developed the Conservation Laboratory in the University Libraries. He was also a participant in activities of the University of Iowa Center for the Book.
His work was recently on display in a show entitled "The Art and Craft of Bookbinding," at the Metropolitan Museum of Art, Watson Library. His work has also been shown at Foyles (London), the Art Institute of Chicago, Boston Public Library, Northwestern University Library, Field Museum (Chicago), and Lausanne (Switzerland).
Three apprentices completed their training under him over a total period of 20 years: William Minter, Mark Esser and David Brock. He implemented a successful apprenticeship program at the University of Iowa Libraries, funded in part by the Mellon Foundation and the National Endowment for the Arts. Currently four apprentices are studying in the Conservation Laboratory. He was a gifted teacher and a leader in American bookbinding.
Mr. Anthony is survived by his wife of 35 years, Bernadette, and four children: Linda Jensen, of LaGrange Park, Illinois; Joho Anthony, of Downers Grove, Illinois; Caroline Swann, of Baltimore, Maryland; and Lisa Anthony, of Iowa City, Iowa. There are four grandchildren: Jimmy, Kristin, Erin and Laura; and one brother and two sisters, in Water-ford, Ireland. Memorials may be designated for cancer research or Hospice of Iowa City at the family's request.