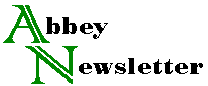 Volume 13, Number 1
Feb 1989
People
Frank C. Burke left the National Archives on September 1 to join the faculty at the University of Maryland at College Park, where he will teach in the College of Library and Information Sciences. He was executive director of the NHPRC 1975-1985, and acting Archivist of the U.S. for two years after that.
Anne Krawitz completed a year of bookbinding studies at Guildford Technical College in Guildford, Surrey, England, and has returned to America to head the bindery at Joseph J. Felcone Inc., Rare Books in Princeton, NJ.
Ellen Cunningham has been appointed as Preservation Officer, The General Libraries, University of Texas at Austin, effective September 1, 1988.
Barbara Meierjames and Scott Husby were married on September 24 in Washington, DC.
Antoinette Dwan has resigned as paper conservator for the Baltimore Museum and is presently the Supervisory Paper Conservator for the Smithsonian Institution' s National Museum of American History. She can be reached at 202/357-3241.
Barbara Roberts has left her position as head of Decorative Arts and Sculpture Conservation at the Getty Museum for private practice as a consultant in preservation, conservation, hazard mitigation, and emergency response coordination for decorative arts and mixed media collections. Her address is R.D. 1, Box 393, Norfolk, CT 06058 (203/542-5939); or in New York City, 212/644-9496.
Laura Wait and Steven Prins have dissolved their professional partnership to establish independent practices in their respective fields of specialization. Laura will continue her book conservation and fine binding out of the studio in her home, at 308 Lomita, Santa Fe, NM 87501 (505/ 983-8952).
Holly White has resigned from HRHRC to attend the Columbia University Graduate Program in Conservation.
Richard Horton has resigned from his position as head of Book Repair for the General Libraries at the University of Texas to enter Columbia University's Program in Conservation.
Connie Brooks began as Chief of the Preservation Department at Stanford University Libraries on January 3. The Preservation Office there achieved departmental status upon her arrival.
Nicholas Pickwoad is now a fellow of IIC.
Jack Thompson has sold part of his conservation lab to the Oregon Historical Society and now works as conservator for the Society's library and museum collections. He will continue accepting a limited number of private commissions in a separate lab facility.
ICCROM's first director, Harold J. Plenderleith, was 90 years old in September. To mark the event, some 200 friends and colleagues contributed to an album of drawings, photographs, poems and souvenirs from around the world.
Paul Whitmore, formerly Assistant Conservation Scientist at the Fogg Museum, began work as Director of the Research Center on the Materials of the Artist and Conservator at the Mellon Institute in Pittsburgh in July.
Nancy Nitzberg, a third-year student in Columbia University's Program for Conservators, is now an intern in the Library of Congress Rare Books Conservation Section.
Thea Jirat-Wasiutynski is on contract at Queen' s University this year, as she was last year. She is teaching the paper objects "stream."
Søren Carlsen, of the Danish Royal Library conservation lab, is in the United States for two years as Collections Conservator at Carleton College and St. Olaf College in Minnesota.
Mary E. Pound has been appointed library conservator of the Minnesota Historical Society. She can be reached at 612/296-6980.
Susan Finley, until January 1989 the book conservator at the Missouri Botanical Garden, is studying to become a psychotherapist and anticipates graduation with a master's degree in December.
Gregor Trinkaus-Randall has a new position as Collection Management Consultant at the Massachusetts Board of Library Commissioners. His major responsibility will be developing a statewide preservation strategy.
Jerri Newman has accepted the position of Paper Conservator at the Massachusetts Archives (220 Morrissey Blvd., Boston, MA 02125, 617/727-2816). She is continuing her private practice on a limited basis.
Elizabeth Wendelin, paper conservator formerly with the CCAHA is now setting up full-tine private practice in Horsham, a suburb of Philadelphia. She will do collection surveys in addition to treatment. Her address is 95 Macintosh CT., Horsham, PA 19044 (215/443-9573).
Gina McKay Lodge, paper conservator, has left the Intermuseum Laboratory and has established a private practice in paper conservation. Address: 10915 Pyle, South Amherst Rd., Oberlin, OH 44074 (216/774-4215).