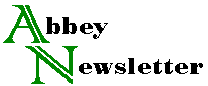 Volume 12, Number 8
Dec 1988
Inexpensive Forming of Ultra-Thin Paper Tissues
A method devised by the following members of the 1988 Paper and Book Intensive (PBI) Mending Group: Tim Barrett, Neal Bonham, Greg Campbell, Kathy Hanson and Lil Ohman, and recorded by Tim Barrett.
Introduction
Earlier work by Anna Stenstrom, with subsequent developmental work by Frank Mowery and others has led to conservation studio manufacture of ultra-thin repair papers using leafcasting or vacuum table facilities .1 Such gossamer-thin tissues have found favor for mending holes, tears, and fold splits or for consolidating with a fiber overlay, where available tissues are too opaque, or mechanically or visually disruptive to the artifact. Works on thin tracing or gampi paper are examples of artifacts that may require mends with such papers.
The unique makeup of the PBI 88 Mending Group suggested exploration of very simple alternatives to the more expensive hardware used to date. Such equipment and methods, if workable, might also be of interest to paper and book artists desiring ultra-thin papers for a variety of applications.
Apparatus And Materials
The "deckle box" tool suggested for this technique is commonly employed, in various configurations, by contemporary hand papermakers for formation of single sheets without the aid of a normal papermaking vat and mould. It closely resembles the leafcasters employed in conservation studios around the world. See the Blumendale drawing offered by Joe Brown, below. Visualize (or sketch in) a sheet support layer, a sheet of Pellon or open mesh silk screen material approximately 70 lines to the inch, in plane with and directly above the aluminum screening layer shown. A deckle twice as deep as the one shown is recommended for ultra-thin tissue papermaking. A tub for standing water is also required for routine sheetforming.
Papermaking - Deckle Box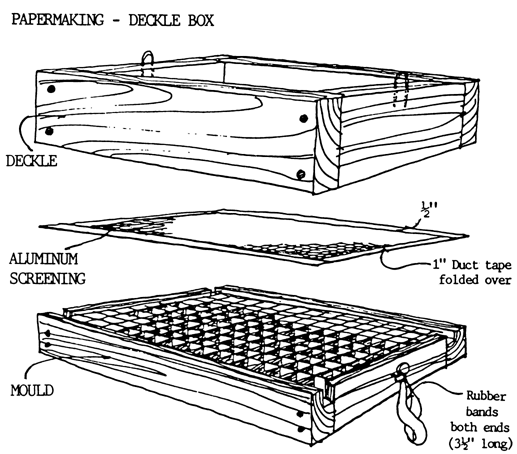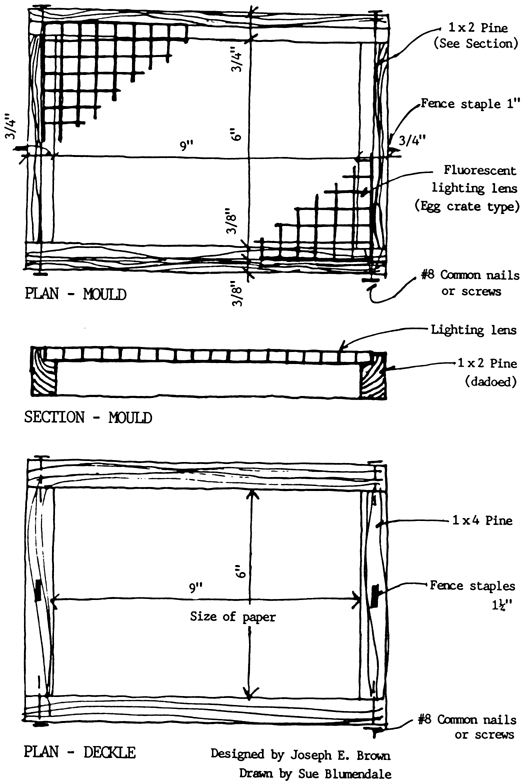 Notes: All wood parts to be sanded after the box is squared and nailed. Three (3) coats of polyurethane applied over all wood parts. Aluminum screening is size of outside dimension of mould or deckle.
The only required materials are a small amount of cooked and beaten kozo or gampi fiber, and a small amount of natural tororo-aoi formation aid or synthetic formation aid such as the PNS (polyacrylamide) material sold by Lee Scott McDonald.
Fiber Preparation For Sheet Forming
Success in forming ultra-thin sheets of paper depends initially on careful fiber preparation resulting in well-separated fibers. Generally, strands and strings or clumps of matted fibers can be traced to poor quality fiber or to insufficient cooking, beating or mixing. Experiments at PBI 88 with kozo and gampi fiber provided by Amanda Degener at the Minnesota Center for Book Arts gave better results with gampi. Persistance and experimentation with different cooking, beating and mixing methods can eventually give good results with either fiber. See Tim Barrett's Japanese Papermaking: Traditions, Tools and Techniques for basic fiber and formation aid preparation instructions.2
Sheet Forming
Wet the mould and silk screen mesh, draping the mesh over the mould and drawing out any folds or creases. Clamp the deckle in place and set the assembly inside the plastic vat. Fill the vat by pouring water into the deckle box above the mould until the water in the deckle box reaches a depth of at least two or three inches.
Well-beaten fiber should be removed from your supply in an amount resembling a small grape. (If your pulp has already been dispersed in water, experiment with different amounts, noting the volumes used. Surprisingly little fiber is required to form very thin dry sheets with considerable strength.)
Add the small grape of fiber to a clean mayonnaise jar (or the equivalent), fill roughly half full with water, attach the lid and shake vigorously for a minute or two. Pour this dilute water/pulp mixture into the flooded deckle box area above the mould. A small amount of formation aid (100 ml of .5% solution to start) will prove helpful in dispersing the fiber, bet the large volume of water alone makes a crucial contribution to fiber separation. Mix the formation aid into the water/fiber mix by vigorous hand agitation for 10 or 20 seconds.
Raise the mould/deckle assembly carefully from the vat of water. After the water and formation aid have drained away, remove the deckle and carry the silk screen support to a precut blotter and lay it down with the freshly formed sheet up. After draining for 5-10 minutes, the sheet, removed from the blotter but still on its supporting layer, may be set aside on an open mesh rack or hung to dry. More rapid drying is possible by putting another layer of silkscreen, Pellon, interleaving material or the equivalent over the fresh sheet, covering with a second blotter and using gentle pressure with the hand to remove excess water. The latter method can cause picking or tearing of the thin tissue, however, and should be used with care.
The top blotter and protective layer may then be removed and the new paper, still attached to the support layer, can be set aside or hung to air dry slowly.
When dry, the paper can be carefully peeled from the support.
Experiment. Try different routines.
We found it is best to dump the water from the vat into a bucket and to refill the mould from above, as before, for each subsequent sheet. Use a turkey baster to draw out any unwanted bubbles that appear under the support mesh before pulp addition and sheet formation.
Other Related Ideas Or Suggestions
1) Try different pulps. One of our most promising sheets was made of approximately 50% highly beaten cotton rag and 50% gampi. Abaca pulp may also prove quite workable, especially for preliminary experimentation. As usual, the greatest assurance of pulp quality and documentation is gained by in-house preparation or by custom order from a reliable supplier. (Wet pulps, not necessarily designed for this application, can be obtained from Carriage House HMP, Lee Scott McDonald, Twinrocker, or Sea Pen Press and Paper.)
2) Consider tinting the finished tissue to obtain the very ideal mending material for a particular artifact.
3) Try thin strips of tape attached to a piece of dry support material to give a deep watermark where guard or hinging strip material is needed (á la UICB "Minter Dry-Tear Guard Strip," available from Tim Barrett). In a related vein: consider Mylar cut-outs placed over the support material to yield shaped pieces of tissue with a natural deckle edge where special shapes are required. With experimentation, somewhat more concentrated fiber and nagashizuki sheetforming action may be used to produce a desired grain in such special shapes.
Neal Bonham made two additional very important suggestions:
4) Place a thin strip of Pellon or paper at the edge of the mould just under the deckle, but extending into the sheet forming area. The strip will serve as a great aid in parting the dry tissue from the support layer and may also be used to record written identification information.
5) Try passing the handle of a small paint brush through the shaken and dispersed gampi or kozo fiber (perhaps with a tad of formation aid also added) so that the fibers bridge across the top of the handle--all in alignment. (The full length of the fibers should drape around one half or less of the brush handle's full circumference.) Roll, place, or "butter" this wet strip onto a premoistened tear, thereby mending with the "paper" grain in the strongest direction. Protect with pellon, sandwich between blotters, and place under weight until dry. Note: this technique needs attention and work before we would consider it useful.
Sources
Twinrocker
Brookston, IN 47923
Lee Scott McDonald
Box 264
Charlestown, MA 02129
Carriage House HMP
8 Evans Road
Brookline, MA 02146
Sea Pen Press and Paper
2228 NE 46th St.
Seattle, WA 98105
Tim Barrett
UICB Papermaking
Art Building
University of Iowa
Iowa City, IA 52242
References
1. This technique has never been described in print, but it was presented orally for the first time at a professional meeting by Frank Mowery at the 1985 annual meeting of the AIC Book and Paper Group.
2. Tim Barrett. Japanese Papermaking: Traditions, Tools, and Techniques. John Weatherhill, New York and Tokyo, 1983. Part 2, Ch. 5 and 6. This book is available from Twinrocker, Carriage House HMP and other U.S. suppliers as well as from Charles E. Tuttle Co., Rutland, Vermont.