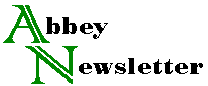 Volume 12, Number 8
Dec 1988
People
Pat Palmer has joined the Washington University Libraries in St. Louis as Conservation Librarian. She recently received her master's degree in library science at the University of Illinois at Urbana-Champaign.
Scott Husby and Barbara Meier-James were married on September 24. The reception was bald at the Folger Library in Washington, DC
Colton Storm, rare book librarian and "restoration binder" (as he termed himself in a 1973 article in the Guild of Book Workers Journal), died on October 1% After early retirement, he and his wife Nancy gave several book restoration workshops at their retirement home in Sedona, Arizona. The last one was in 1972.
Robert Milevski has accepted the position of Head, Collections Maintenance Dept., Milton S. Eisenhower Library, Johns Hopkins University (34th and Charles Sts., Baltimore, MD 21218, 301/338-8380). He was formerly Head, Phased Conservation Section, at the LC Conservation Office.
Dorothy Cunha passed away on October 10. With her husband George Martin Cunha she co-authored the two-volume Conservation of Library Materials, which appeared in 1971.
Pearl Holford was appointed Conservation Officer at the Virginia State Library and Archives in September 1988. She was formerly at the Brooklyn Botanic Garden.
Dennis Moser has accepted the position of Conservation Assistant in the Conservation and Book Repair Unit at the University of Michigan.
Carol Sue Whitehouse has accepted the position of Associate Conservator with Case Western Reserve University Libraries in Cleveland. She is a recent graduate of the conservation training program at Columbia University.
Nora Kennedy, photograph conservator, has left the Conservation Center for Art and Historic Artifacts in Philadelphia to accept a one-year position as Mellon Advanced Intern at the Museum of Modern Art in New York City.
Cathy Atwood, formerly Paper Conservator at the Newberry Library, is now Paper Conservator at the Nebraska State Historical Society in Lincoln.
Steve Miller, co-proprietor of the Red Ozier Press in New York City, joined the University of Alabama Graduate School of Library Service as Coordinator of the MFA Program in Book Arts in August.
Joan Flasch, who has been teaching bookbinding at the Art Institute of Chicago, died September 28, after a three-year battle with cancer. She was 39 years old.
Marcia Watt was appointed Head of the Preservation Division in the Preservation Department of the Yale University Library.
Mark Roosa and Maria Fredericks were married on September 24.
James Druzik and Cecily Grzywacz, both of whom work in the Scientific Program at GCI, were married May 28.