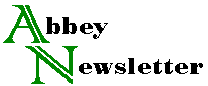 Volume 12, Number 6
Sep 1988
People
Theo Kahle, founding member of Hand Bookbinders of California and co-proprietor (with his wife Anne) of Capricornus for many years, died on June 10.
Bruce Levy has resigned his position as Senior Book Conservator at the Harry Ransom Humanities Research Center, University of Texas at Austin. He is now in private practice in California as a rare book conservator, at 15053 Lake Lane, Nevada City, CA 95959 (916/265-0242).
Diane Van der Reyden has been made a Fellow of AIC.
Anthony Cains and Ian and Angela Moor will all be participants in the Getty Museum' s visiting conservator residency program for 1988-1989.
Dr. Paul M. Whitmore is the new Director of the Research Center on the Materials of the Artist and Conservator at the Mellon Institute, Carnegie-Mellon University, in Pittsburgh. Dr. Robert L. Feller plans to remain associated with the lab on a part-tine basis, completing a number of research projects and preparing data for publication.
Thomas F. Staley, University of Tulsa Provost, will assume the position of Director of the Harry Ransom Humanities Research Center at the University of Texas on September 1.
Carole Zimmerman is Preservation Office Librarian at the Library of Congress. (The collection she cares for is listed on p. 112 of the October 1987 issue of AN.)
William J. Welsh, Deputy Librarian of Congress, will retire on October 3, 1988, after 41 years of service with LC.
Yehudah Miklaf writes that they have finally found and bought an apartment with a studio attached, and would like for his new address and telephone to be made known: 3 Shalom Yehudah St., Jerusalem, Israel (02/717 599). He is getting lots of new work, "almost all new artsy stuff," but he keeps in touch with the conservation world through Patrick Ravines and Nellie Stavisky. He wonders if he is the only subscriber with leather bound copies of AN. [!]
Sylvia Marie Rodgers and Thomas C. Albro II were married October 17, 1987 in Washington, DC.
Janet Gertz is the new preservation microfilm librarian at Columbia University Libraries; and Richard Peek, a new graduate of the Preservation Administrator Program, will be the new Mellon Intern in September.
Cheryl Carrabba writes, replying to the Editor's inquiry, "Since Jensen Bindery was absorbed and is now Book-Lab Inc., a lot of people have asked if I was also absorbed or retired into the blazing Texas sun. Happily, I remain in close association with the crew at BookLab and until further notice (as in major relocation) I will continue to offer conservation services for works of art on paper and archival materials."
Susan K. Martin, director of the Milton S. Eisenhower Library at Johns Hopkins University since 1979, is leaving Johns Hopkins to become executive director of the National Commission on Libraries and Information Science. Her place will he taken by Johanna Hershey as acting director. (Ms. Martin has written occasional articles on administrative aspects of preservation.)
Ruth (Mrs. William J.) Barrow died on June 30, 1988.
Deborah Miller Hefling has been appointed the librarian in charge of preservation at the Cleveland Public Library, where the Wei T'o deacidification system and an ultrasonic welder are being used to treat 6,000 books, documents and maps on a grant.
Melanie Martin and Grace Deem have completed two years of course work in the program for Library and Archives Conservation at Columbia University in New York, and will begin internships in the fall. Ms. Martin will be working with Anthony Cams at Trinity College, Dublin, and Ma. Owen will be working with Nicholas Pickwoad in Norwich, England.
Carla Montori and Karl Longstreth were married on May 28th. Carla is Head of Preservation at the University of Michigan Library; Karl's profession is rare books librarianship.