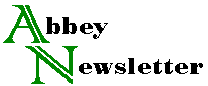 Volume 12, Number 5
Jul 1988
Events in the News
[Note: Due to the press of time, the Coming Events section has not been retyped for this issue. The only new events that need listing are a few for next year, and they can go in the next issue.]
The Northeast Document Conservation Center (NEDCC) used an effective approach to communicating with custodians of records when it gave its seminar on the Appraisal and Conservation of Historic Records on May 13. The seminar emphasized the management aspects of conservation, including assessment of an institution's responsibilities for its collections, basic organization and inventorying of collections, appraisal and priority setting, preventive care, improvement of the environment and storage conditions, and evaluation of professional conservation options. It attracted nearly 50 participants from all over New England, who heard presentations by both archivists and conservators. A three-page summary of the seminar is available from NEDCC.
A one-day seminar called "Management Problems of the Technical Person in a Leadership Role" will be given at six locations on the east coast and in the west during August by Fred Pryor Seminars. Fee: $195. No information is available about helpful they are for people in preservation and conservation, but technical people in these fields do get promoted to administrative and supervisory positions. Fourteen percent of respondents to the Abbey Newsletter s survey of readers last fall said they used to be a full-time binder or conservator, but had subsequently come to administer a preservation program. For more information call 800/255-6139.
The Smithsonian Institution's Office of Museum Programs announces a new annual workshop called "Fire, Safety and Health Programs for Museums and Other Cultural Institutions," to be held for the first time September 13, 14 and 15, 1988. The announcement is not clear about whether it is a one-day or a three-day workshop. Fee: $120. Deadline:
July 19. For more information write Smithsonian Institution, Office of Museum Programs, Room 2235, Arts & Industries Building, Washington, DC 20560. Participants will be selected on the basis of appropriateness of background.
The Utah Preservation Consortium, now in its first year of operation, will give a disaster planning and recovery workshop September 15-16 at the Brigham Young University Convention Center. The ten speakers and instructors include John Barton, Eric Lundquist, Barbara Roberts and Don Hart-
sell, and they will address the needs of museums as well as the needs of archives and libraries. $25 until Aug. 1; $35 thereafter. Write UPC Workshop, Registration, c/o Billie Jones, Salt Lake City Public Library, 209 East 500 South, Salt Lake City, UT 84111.
The program for the IIC Congress in Kyoto has been published in the IIC Bulletin #3. At least 50% of the 38 papers are on books and paper or art on paper; 33 posters are planned, and there will be four related tours. For information, North Americans should write Garber Travel, Attn: Historic and Artistic Works Coordinator, P0 Box 404, Brookline, MA 02146 (617/787-0600). Date: Sept. 18-23.
An International Conference on Terminology for Museums will be held Sept. 21-24 in Cambridge, England. The notice in the IIC Bulletin says: "As a growing number of museums build up computer databases and improved records, effective terminology control is becoming a crucial issue of relevance to museum professionals, art historians and a wide variety of other researchers. This conference, co-sponsored by the Museum Documentation Association (MDA) and Getty Art History Information Program (AHIP) will provide a substantial review of recent developments of systems and within individual institutions. Information: The Museum Documentation Association, Building 0, 347 Cherry Hinton Rd., Cambridge CB1 4DH, UK."
The three advanced workshops at the University of Iowa will be given on the following dates:

Oct. 3-7 - Treating valuable pamphlet collections (booklets with no more than three gatherings)
Nov. 28-Dec. 2 - Nineteenth century cloth case bindings Feb. 20-24 - Protective enclosures for books and pamphlets
For more information, contact Bill Anthony, University of Iowa Libraries, Conservation Department, Iowa City, LA 52242 (319/335-5908).

The program for the TAPPI Paper Preservation Symposium has been published in Tappi Journal, June, p 207. For more information see the last issue of this Newsletter or call TAPPI Meetings Department, 404/446-1400 ext. 245. The symposium will be in Washington, DC, Oct. 19-21.
The program for the Guild of Bookworkers' 8th Annual Seminar on the Standards of Excellence has also appeared. There will be four tours on Thursday evening, Oct. 27. The four presentations, each of which will be given four times, will be on Oct. 28-29:

Kay Amert - The Use of letter forms in Bookbinding Design
Cathy Atwood - Japanese Side-Sewn Bindings
Silvia Rennie - Gougeless French Onlay Techniques
Pamela Spitzmueller - Techniques of Western Through-the-Fold Sewing, A Chronological Approach.

$80 members, $120 nonmembers (except that by paying the $120 you become a member). Write Bonnie Jo Cullison, Newberry Library, 60 West Walton St., Chicago, IL 60610.

The speakers have been lined up for the 30th Allerton Institute conference Nov. 6-9, "Conserving and Preserving Materials in Nonbook Formats": Lambertus van Zelst will be the keynote speaker; others include Gerald Gibson, Susan Dalton, Susan Swartzburg, Henry Wilhelm, Nancy Heugh, Sarah Wolf Green, Mary Lynn Ritzenthaler and Dennis Inch.