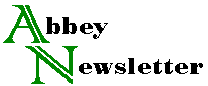 Volume 12, Number 4
Jun 1988
People
Vanessa J. Piala, previously at the New York Academy of Medicine Library, joined the Smithsonian Institution Libraries as head of Preservation Services in the Collection Management Division earlier this year.
Karen Garlick, senior paper conservator at the Library of Congress, was featured in an article in the Chronicle of Higher Education (March 9, 1988), "At Work in the Restoration Rooms of the Library of Congress," by Judith Axler Turner.
Susan Lunas, a graduate of the Columbia Conservation Program, is now a library and archival conservator and preservation/conservation consultant. She can be reached at 154 Wedgewood Circle, Eatontown, NJ 07724 (201/544-8319).
Nancy Carlson Schrock has been appointed Archives Coordinator for the AIC, together with objects conservator Paul Himmelstein.
Dennis Moser of the University Club Library will be at the Folger Shakespeare Library on an internship during May, June and July.
[Apologies to the people whose notices are not included here. Because of the shortage of space, notices can be accepted only if the people are already known to readers, or if the news about them clearly relates somehow to progress in the field. -Ed.]