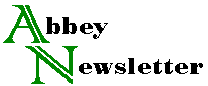 Volume 12, Number 3
Mar 1988
People
Monique Lallier and Don Etherington were married on November 12 in Greensboro, N.C., in a civil ceremony. Their new address is 12A Park Village Lane, Greensboro, NC 27405 (919/282-0624). They have set up a workshop at home and will be doing fine binding and rare book conservation in a joint venture under the name D&M Inc. They will also be giving bookbinding lessons.
Shelley Fletcher, Head of the Paper Conservation Department at the National Gallery of Art, has been made a fellow of the International Institute for Conservation.
Nancy Heugh, formerly senior paper conservator at the Harry Ransom Humanities Research Center in Austin, has accepted the position of Head Paper Conservator at the Intermuseum Laboratory in Oberlin, Ohio.
Anne Tedeschi, formerly conservation officer at the Jesuit-Krauss-McCormick Library in Chicago, now has a bookbinding business, The Book Workshop, in Madison, Wisconsin.
Abby A. Shaw, formerly Executive Director of the Conservation Center for Art and Historic Artifacts (CCAHA) in Philadelphia, was appointed Marketing Manager of Lindenmeyr Paper Company's Archivart Division in March.
At the New York Academy of Medicine:

Elaine R. Schlefer has been appointed Head of the Preservation Department.
Susan B. Martin has been appointed Book Conservator.
Pamela Barrios has been appointed Preservation Assistant.