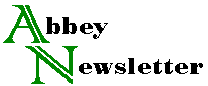 Volume 12, Number 2
Feb 1988
Positions Open
PAPER CONSERVATORS
Four paper conservation positions were advertised in the January AIC Newsletter, for the Winnipeg Art Gallery, the Baltimore Museum of Art, Historic New Orleans Collection and the National Gallery of Art. The New Orleans position is actually for a book and paper conservator. It is reproduced below.
The Historic New Orleans Collection, a museum and research center of Louisiana material, is seeking a paper conservator. Applicants should be experienced in treating a variety of paper works, including manuscripts and books. The conservator will be responsible for an overall survey of the Collection's three divisions (curatorial, manuscripts, and research library) and for implementing a conservation plan. The recently completed lab, with over 1500 square feet, contains basic equipment and will need additional equipment and supplies to be selected by the conservator.
Applicants should have a degree from a recognized conservation program and a minimum of three years' experience. Medical, retirement, and other benefits are provided. Send resume and salary requirements to Dode Platou, Director, Historic New Orleans Collection, 533 Royal St., New Orleans, LA 70130.
CONSERVATOR H.R. II (ARCHIVAL MATERIALS)
Provincial Archives of Manitoba
The Provincial Archives of Manitoba, Department of Culture, Heritage & Recreation, requires a conservator to assist in its conservation program. The successful candidate will be involved in a proactive conservation treatment program of a wide variety of archival materials dating from 1670; vacuum freeze drying; conducting conservation surveys; preparing and presenting lectures and workshops both for the Archives and the Manitoba Heritage Conservation Service; and assisting in disaster management.
Qualifications: Graduation from a recognized conservation program and two years practical experience, or equivalent practical experience in the conservation field. Further specialization is desirable in fine art, book or photographic conservation, as is experience in working with small institutions, and in disaster recovery. Affirmative Action will be a consideration in the selection process.
Salary: $26,553 - $34,383
Closing date: April 30, 1988. Applications in writing only can be made to the Civil Service Commission, #904 - 155 Carlton St., Winnipeg, Manitoba R3C 3H8, Canada.
CONSERVATOR (ARCHIVIST II)
University of Florida
Responsibilities: Determines priorities and workf low of the Conservation Unit, and performs a variety of conservation treatments including work on paper, cloth and bindings. Treatments will include work on text blocks and covers such as repair, resewing, rebacking, and paper treatments. Other treatments will include encapsulation, deacidification, and making protective enclosures. Trains and supervises (1.5 FTE); monitors the quality of work; evaluates tools/equipment and establishes procedures for their use; devotes approximately 70% of time to bench work. Reports to Preservation Officer, University of Florida Libraries.
Qualifications: Highly desired are two years of experience in book and paper conservation; knowledge of conservation ethics, practices, documentation procedures, and techniques employed with archival and library materials; completion of a recognized conservation training program, a formal apprenticeship, or demonstration of similar level of education and experience. Also desireable, but not required: one year supervisory experience; experience and continued interest in history of the book and its structures, chemistry, history and art. Minimum qualifications: B.S. Degree in history, library science or one of the social sciences and two years of professional archival experience, alternate qualifications available.
Salary: $17,162 - $24,000, commensurate with experience; excellent fringe benefits.
Starting date: As soon as possible. Send complete resume to: Kathy Campton, Central Employment Center, 4th Floor Stadium, University of Florida, Gainesville, FL 32611, by April 15, 1988. Requests must refer to position identification #21462 in order to guarantee consideration.
BOOK CONSERVATOR
Teachers College, Columbia University
The Milbank Memorial Library of Teachers College, Columbia University, is seeking a full-time book conservator to manage the conservation programs of a mid-sized research library with nationally-recognized collections in education and related fields.
Principle responsibilities include:
Management of a conservation facility for the treatment of books and other materials from the library's general collections and rare book and manuscript collections
Supervision and training of a staff of three part-tine conservation assistants
Planning and implementation of programs of environmental monitoring and disaster preparedness
Advising other library departments on conservation-related policies, including commercial binding standards and handling and shelving of library materials Preparation of materials for exhibitions.
The Conservator reports to the Head, Special Collections and cooperates with him in all facets of the library's preservation programs.
Qualifications include five years experience in book and paper conservation or a masters degree from a recognized training program and two years experience; previous experience in the conservation of research library collections is preferred.
Salary: $21,000. Liberal benefit package includes tuition exemption, 24 vacation days, 13 paid holidays, BC/BS, major medical, dental, optical and flexible spending plans, and TIAA/CREF retirement.
Please send your resume including the names, addresses and telephone numbers of three references before Marcy 15, 1988, to Maureen Horgan, Planning Coordinator, Milbank Memorial Library/Box 307, Teachers College, Columbia University, 525 W. 120th St., New York, NY 10027.
PRESERVATION LIBRARIAN
SUNY Albany
Responsibilities: Preservation coordinator for University Libraries. Reports to Head of Special Collections and Archives; responsible for the coordination of the Brittle Books Program and related conservation/preservation activities in the University Libraries. The Preservation Librarian will establish and manage an inhouse book conservation unit and will coordinate activities with the Physical Processing Unit in Technical Services. Coordinates the identification and review of brittle and seriously damaged or deteriorated books in circulation; coordinates replacement searching; recommends treatment options to prolong the life of library materials or preserve the intellectual content of materials whose physical condition has deteriorated beyond routine repair or rebinding; surveys and recommends treatment options for non-circulating collections, including Special Collections and Archives and Non-Print Collections; conducts training sessions for students and staff; serves as liaison with Collection Development librarians responsible for bibliographic review, Technical Services, and Circulation. Supervises one clerk and student assistants.
Qualifications: Minimum requirement, ALA accredited MLS. Two years library conservation/preservation training and experience required.
Salary: $22,000 or higher depending on qualifications and experience.
Deadline: Letter of application, list of three references and current resume should be received no later than March 21, 1988. Apply to Christine M. Travis, Library Personnel Officer, University Libraries, Room 139, The University at Albany, State University of New York, 1400 Washington Ave., Albany, NY 12222.
PRESERVATION LIBRARIAN
Yale University
Appointment at the rank of: Librarian I or Librarian II, depending upon qualifications. (SEARCH RE-OPENED)
The University and the Library: Yale University is one of the foremost universities of the world, preeminent in scholarship and research in the various fields of the humanities, the sciences, and in the professional schools. There are approximately 5,100 undergraduates and 5,000 graduate students, and over 2,000 faculty, at Yale. The University Library has 8.3 million volumes housed in the Sterling Memorial Library building, 16 school and department libraries and numerous distinguished special collections.
The Preservation Division of the Library's Preservation Department is responsible for the brittle book program including bibliographic searching, decision-making, and implementation of the various replacement and reproduction options. Special reformatting projects are all undertaken, and the Department has just embarked on a new series of preservation initiatives.
Responsibilities: The Preservation Librarian works closely with the Head Librarian, Preservation Department and, in her absence, may serve as department head. The incumbent has special responsibilities in the area of microfilming and aids in carrying out Division routines as well as outreach programs, such as workshops and the development of training aids, for all units within the library system. Manages the Microfilming Unit, including supervising the work of its four full-time employees. Has wide responsibilities in the development, implementation, and oversight of special projects, both inhouse and with outside vendors, whether they are unit-specific or system-wide. Assists in the supervision and daily problem-solving required within the Preservation Division, which consists of three to five full-time employees and 3-14 part-tine students, depending on the status of special projects. Aids in the review of deteriorated materials with bibliographers and curators, providing cost information and option recommendations Writes reports, participates in administrative meetings (attendance at national preservation activities will be encouraged), and interacts to a great extent with both the Conservation and Preparations Divisions within the Department and with other departments. Aids in carrying out preservation education activities including workshop presentations, talks and the preparation of training materials. Participates in the Library's planning activities and is expected to be active professionally.
Qualifications: MLS from an ALA-accredited library school, with emphasis on preservation administration preferred.
Knowledge of microformats and preservation microfilming preferred. Demonstrated ability to plan projects, write reports, and communicate effectively. Knowledge of running a microfilm lab desirable. Supervisory experience preferred. Two or more years of professional experience in a preservation program, or the equivalent training with some field experience, preferred.
Salary and benefits: Salary from $23,500 (Librarian I minimum) or $24,500 (Librarian II minimum), dependent upon qualifications. Comprehensive benefits program includes 22 days vacation; 17 holiday, recess, and personal days; retirement; health care; and relocation assistance.
Application: To be assured of consideration, please send letter of application, resume and names of three references by February 29, 1988 to Maureen Sullivan, Head, Library Personnel, Yale University Library, 1603A Yale Station, New Haven, CT 06520. [Note: Since this announcement was not mailed until February 3, there may be some flexibility with the deadline.]