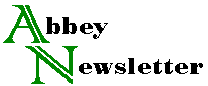 Volume 12, Number 2
Feb 1988
People
Bill Minter and Valerie Metzler will be married on May 28 at the Metzler family farm in Pennsylvania.
Janice Schopfer began a one-year NEA Internship in Paper Conservation at the Los Angeles County Museum of Art in January.
Janet Bridgland was elected committee chairman of the ICOM Committee for Conservation at the September meeting in Sydney.
Sarah Rosenberg is the new Executive Director of the AIC.
Sara Wolf Green has a new address: do the Textile Museum, 2320 S St., MW, Washington, DC 20008 (202/667-0441).
Abigail Quandt will return to the Walters Art Gallery March 1 in a newly created position in the conservation lab: Conservator of Manuscripts and Rare Books.
Norman Brommelle has resigned as Secretary-General of the International Institute for Conservation and is moving to Italy. Henry Hodges will fill his place temporarily.
Lorraine Rutherford has been appointed Preservation Librarian at Indiana University in Bloomington, starting in April.
Jeffrey Heynen, formerly of the Association of Research Libraries, became the chief of the Special Materials Cataloging Division at the Library of Congress last October.