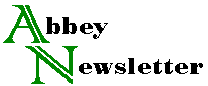 Volume 12, Number 1
Jan 1988
Positions Open
BOOK CONSERVATOR
Midwest Book and Paper Conservation, Chicago
The Studio at Monastery Hill Bindery, called Midwest Book and Paper Conservation, has an immediate opening for an assistant book conservator who will work closely with the head conservator. Duties include knowledge of book restoration: conservation paper bindings, full cloth and leather bindings, rebackings, treatment on book block paper such as washing and deacidification, mending and guarding, conservation housings, boxes and slipcase making, ordering supplies, maintenance of records of work in progress and help in some administrative areas.
Applicants are required to have an advanced knowledge in basic bookbinding, experience in rare book conservation, and to be capable and efficient in working with leather and gold finishing.
Salary commensurate with experience and qualifications. Letter of application, including resume and three references (with some samples of the applicant's work if possible), should be sent to Heinke Pensky-Adam, Head Conservator, to be reviewed by Mrs. Rhoda H. Clark, President of Monastery Hill Bindery, 1751 W. Belmont Ave., Chicago, IL 60657 (312/ 525-4126).
(Received Jan. 22)
ASSISTANT CONSERVATOR WORKS OF ART ON PAPER
Yale Center for British Art
The candidate should have a degree from an art conservation training program or equivalent apprenticeship training. The assistant paper conservator will work with the paper conservator on collections from the Yale Center for British Art and the Yale University Art Gallery.
Spacious, well-equipped modern paper conservation laboratory. Duties include examining works of art on paper, preparing reports and performing conservation treatments.
Fine research facilities in the areas of art history and artists' materials and techniques. One-year appointment (renewable). Starting date is flexible, but preferably around the beginning of April 1988. Salary commensurate with experience. Send resume and references to: Theresa Fairbanks, Paper Conservation, Yale Center for British Art, Box 2120 Yale Station, New Haven, CT 06520.
ASSISTANT CONSERVATOR LIBRARY MATERIALS
Brigham Young University
The Harold B. Lee Library has an opening in the Conservation Laboratory for a faculty position at the Assistant Librarian level. Under the direction of the Library Conservator, the department seeks a member for a dynamic professional team to work in a well-appointed conservation facility in the care and conservation of unique hook and archival materials from the Special Collections. The duties include conservation treatment operations, conservation liaison work with the curators and collections, and department administrative functions. As a library faculty member the conservator is expected to be involved in service, citizenship, and professional development activities within the university and the profession as a whole.
Qualifications: Broad knowledge and experience in the practical and theoretical problems of book and paper conservation, demonstrated through any combination of formal and/or informal training experiences, apprenticeships, internships, or work experience. Preference will be given to applicants with actual work experience in a library conservation facility. Brigham Young University is sponsored by the Church of Jesus Christ of Latter Day Saints (The Mormons) and applicants must be willing to uphold the university's standards.
Salary negotiable depending on qualifications and experience.
Application: This position will be available after June 1, 1988; the closing date for applications is April 30, 1988. Please send resume and names of three references to Robert Espinosa, 3008 HBLL, Brigham Young University, Provo, Utah, 84602.
CONSERVATION TECHNICIAN
Georgetown University Law Center
Responsibilities: Performs a variety of conservation and repair treatments for library materials in a production setting. Performs basic and routine repair and refurbishing of textblocks and covers of books; performs basic and routine paper mending with Japanese paper and starch paste or heat-set tissue; fabricates custom protective enclosures such as phase boxes, four-flap portfolios with wrappers, pamphlet binders; participates in the selection of material for treatment; selects appropriate treatment options for materials in accordance with preservation policies and priorities established by Collection Management Librarian and library administration; inventories, orders and prepares for use materials and supplies used in all treatments; trains and supervises one or more student assistants. The Conservation Technician will help develop the Library's relatively new conservation laboratory and book repair program.
Minimum qualifications: High school education and course-work in conservation, art history, studio art or the physical sciences. One or two years specialized experience in a library, archive or museum conserving paper and book bindings. Superior manual dexterity and knowledge of paper, book structure and elementary paper chemistry required.
Salary: $17,722-$20,550 per year ($8.52-$9.88 per hour)
Deadline date: Feb. 12. Send application to Linda Nainis, Assistant Law Librarian for Collection Management, Georgetown Law Library, 600 New Jersey Ave., NW, Room 213C, Washington, DC 20001 (202/662-9171).
PRESERVATION LIBRARIAN
Johns Hopkins University
Under the direction of the Head of Collections Maintenance, this position manages seven FTE working in the four preservation units which care for the general research collections of the Library. Major duties include making treatment decisions, planning and organizing strategies to meet the preservation needs of a major research collection, conducting programs in preservation education for staff and patrons, organizing collection surveys, and supervising the brittle book/reformatting program.
ALA accredited MLS, minimum two years professional library experience and experience or academic concentration in preservation administration required. Experience with brittle book programs, microfilming, preservation photocopying, and supervision desirable.
Excellent benefits: Salary from $24,397, based on qualifications. Please submit letter of application, resume and three references relevant to professional qualifications by March 25 to: The Johns Hopkins University, 34th and Charles Sts., Baltimore, MD 21218; Attn: Edward S. Warfield, 146 Garland Hall. AA/EOE
PHOTOGRAPHY CONSERVATOR
Harry Ransom Humanities Research Center
The Conservation Department of HRHRC is seeking a highly qualified Senior Photographic Conservator. The position offers a unique opportunity to develop a program for the care of a wide range of photographic artifacts in a well-equipped lab. The salary is in the range of $26,000 to $30,000 per year, depending on qualifications.
Applicants must have formal or equivalent training in conservation or a related field; in-depth knowledge of photographic processes and the history of photography; and three years of conservation experience including experience in the conservation treatment of photographic artifacts.
To apply, send resume, including the names and addresses of at least three professional references, to: James Stroud, Acting Chief Conservation Officer, Harry Ransom Humanities Research Center, University of Texas at Austin, PO Drawer 7219, Austin, TX 78713. An Equal Opportunity/Affirmative Action Employer.
PAPER CONSERVATION INTERNS
Conservation Analytical Laboratory, Smithsonian
Ten-week summer internships are available to students in graduate conservation training programs, or to individuals with the equivalent training and experience. Projects and activities are coordinated with senior conservators Dianne van der Reyden and Timothy J. Vitale (both at 202/287-3725).
"Third-year" internships are also open to students or individuals with equivalent experience or training, as above.
Application deadline: Feb. 15. Call the senior conservators for details.
POSTGRADUATE INTERNSHIPS IN PAPER CONSERVATION
Smithsonian Institution - Various museums
The internships are open to graduates of recognized conservation training programs, or persons with comparable training and experience. Six internships will be awarded to start in the fall of 1988. The stipend will be $16,000 plus a travel and research allowance of $2,000. Application deadline: Feb. 15. For application instructions, call Eleanor McMillan, Training Coordinator, Conservation Analytical Laboratory, Museum Support Center, Smithsonian Institution, Washington, DC 20560 (202/287-3727).
FULBRIGHT CONSERVATOR OR PRESERVATION ADMINISTRATOR
Knights of Malta collections in Malta
The Fulbright Program is accepting applications for an award to a conservator or preservation administrator specializing in book and manuscript restoration, preservation, or cataloguing to work in the Knights of Malta collections in Malta. Grant activities will be to assess the scope and nature of restoration, preservation, and cataloguing needed in these collections and to make recommendations for training personnel and acquiring materials and equipment to undertake future work.
The Fulbright grantee should have demonstrated experience in document and book restoration, preservation, or cataloguing in special collections. A knowledge of Latin would be helpful.
The Grant will provide approximately $10,000 for travel and living expenses during a period of three months in late 1987 or anytime in 1988. Interested candidates should submit a letter of application and a curriculum vitae. Address application and inquiries to Gary L. Garrison, Manager, Fulbright Professional Program, Council for International Exchange of Scholars, Suite 300, 11 Dupont Circle, N.W., Washington, DC 20036 (202/939-5467).
PRESERVATION LIBRARIAN
New York University Libraries
Plans, evaluates and administers the library's preservation program, which includes inhouse bindery repair unit, disaster preparedness, staff training, staff and user awareness, and bibliographic decision making. Evaluates performance of contractors for binding and microfilming. Helps monitor library's environmental conditions. Reports to the Director of Collection Management and also works closely with special and archival collections, subject specialists and the stack unit.
Requirements: Knowledge of preservation administration and hands-on conservation techniques. Formal training and supervisory experience preferred. Good oral and written communication skills.
Minimum salary $25,000. Position requires accredited MLS, subject masters degree for tenure. Faculty status, tuition remission, TIAA/CREF or alternative pension program, 5 weeks annual vacation period. To ensure consideration, send resume and letter of application, including the names, addresses and telephone numbers of 3 references, by Feb. 15, 1988, to Ms. Alice Deich, New York University Libraries, 70 Washington Square South, New York, MY 10012. NYU is an Equal Opportunity Affirmative Action Employer.
[Received Jan. 21.]