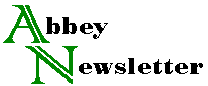 Volume 11, Number 7
Oct 1987
Etherington to Join Binding Firm
Information Conservation, Inc., the corporate parent of General Bookbinding Co., Joseph Ruzicka South, Inc., and Library Bindery Co. of Pennsylvania, has announced the creation of a new division of the company to be under the directorship of one of the leading conservators in the world. Mr. Don Etherington, formerly Assistant Director/Chief Conservation Officer of the Harry Ransom Humanities Research Center in Austin, Texas, has agreed to join ICI as Vice President of Conservation and Preservation effective November 1, 1987.
John R. (Jack) Fairfield, President of Information Conservation, Inc., indicated that Mr. Etherington will be operating out of Greensboro, North Carolina, and the Joseph Ruzicka plant, but will be available to consult with the Ohio and Pennsylvania company customers for conservation services. "This is a major step for a commercial bindery to take. We have been listening to our customers and believe the library community will welcome the availability of a full-service conservation and preservation operation," said Fairfield. "We feel very fortunate to be associated with Den Etherington and compliment him on his willingness to join the private sector in establishing this division within our corporate family."
Etherington' s credentials are known throughout the world as superb. He was educated and trained in England and came to America in 1970. His job credits in the last 17 years started with the Library of Congress as the Assistant Restoration Officer and he served in that capacity until 1980. He joined the University of Texas at Austin as Chief Conservation Officer in that year, and remained there until accepting this new position.
Mr. Etherington's professional credentials include fellowship in both the American Institute for Conservation and the International Institute for Conservation. He is an active member of the American Library Association and the Guild of Book Workers. Etherington is a renowned Design Bookbinder and has exhibited his work worldwide. He coauthored, with Matt Roberts, Bookbinding and the Conservation of Books, a Dictionary of Descriptive Terminology in 1982.
His efforts in organizing and conducting workshops have spanned the globe during the last 10 years. Mr. Etherington and ICI plan to continue to offer his services as a consultant wherever and whenever needed.