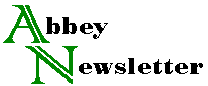 Volume 11, Number 6
Aug 1987
Events In The News
Last November there was a Restoration Conference in South Africa, at which Helmut Bansa was a participant. The proceedings are to be printed and offered for sale, and three resolutions were adopted, on 1) the training of restorers, 2) the training of preservation librarians and of library school students in preservation, and 3) production of acid-free paper in South Africa.
Ten archivists from the Bahamas, Barbados, Bermuda, Brazil, Curaçao, and Mexico attended an International Archives Preservation Seminar June 1-5 at the National Archives. The seminar was designed to give mid-level archivists training in planning new or improved preservation programs at their institutions. Members of the Archives Document Conservation Branch staff served as primary instructors for the program; outside instructors included Paul Banks of Columbia University and Ann Russell of the NEDCC. The seminar was arranged with the assistance of the Society of American Archivists and the International Council on Archives.
The colloquium on parchment, September 20-22 in Mar-burg, will include 15 papers by B. Vorst, Claire Chahine, Wolfgang Wächter, Michael Gullick and others from a total of eight countries. The proceedings will be published in 1988 in German.
The instructors in the ICCROM course on conservation of paper objects September 21-November 13 (also given as Sept. 21 to Nov. 20) will be Gerhard Banik, Margaret Hey, Cathy Baker, Bob Futernick, Fred Marsh, Brian Ramer, Katsuhiko Masuda and Mogens Koch.
The Canadian Bookbinders and Book Artists Guild (CBBAG) will have a fall workshop series at the Canadian Graphic Arts Institute, 19 Duncan St., Toronto: Sept. 25-26, inlay and onlay, and edge treatment, with Deborah Evetts; Oct. 4, Adam Smith on tool sharpening; and five successive Sundays starting Oct. 18, beginner's bookbinding with Don Taylor. Nonmembers must join the Guild to take the workshops. Call Shelagh Smith (416/851-1554).
Betsy Palmer Eldridge will teach a small class in bookbinding and conservation next winter, as she did last winter. It will meet Wednesdays, 10-4 pm, October-May. Call her at 416/967-4589 (Toronto).
A symposium entitled "Conservation in Archives: Current Dimensions and Future Developments" will be held at the National Archives of Canada in Ottawa, May 10-12, 1988. It is intended for conservation managers and heads of conservation labs, and will cover parchment, paper, photographic records, standards, magnetic media, future automated technologies, and management. Sessions will be in English or French with simultaneous translation. For more information write International Conservation Symposium, P.O. Box 3162, Station D, Ottawa, Ontario K1P 6H7, Canada (613/996-7277). Yes, the name is now National Archives; it was changed from Public Archives June 11 of this year.
"Conservation of Historic and Artistic Works on Paper: Symposium '88" is being sponsored by the Canadian Conservation Institute and will take place in Ottawa, Canada, Oct. 3-7, 1988. Original papers are invited on topics relevant to the concerns of the conservator, scientist, curator, or archivist: case histories, conservation treatments, materials, and artists' techniques. Deadline for submission of abstracts: March 31. Information and registration forms are available from Symposium '88, CCI, 1030 Innes Road, Ottawa, Ontario K1A 0M8, Canada (613/998-3721).
The proceedings of Symposium '86 are currently in preparation, and it is hoped that they will be ready by this fall. They will be free to those who registered for the conference and will be available to others for a cost of approximately $10-$12. No information has been received about whether there is to be a symposium in 1987.
The China Technical Association of Paper Industry is planning a Paper History Seminar in Beijing, China, in early November or later October 1988. The organizers hope to receive 15-20 participants from China, and the same number of non-Chinese participants. All papers will be read in English or in Chinese, with simultaneous translations. The costs are estimated for American members of IPH as:
$1500 - return trip by air
200 - hotel accommodation at $50-$70/night
250 - meals at $50-$60/day
250 - registration, including trip to Great Wall
Write George Thomas Mandl, who is a council member of the International Association of Paper Historians (IPH). He is at Wehrdaer Str. 135, D-3550 Marburg, West Germany.
The Department of Conservation, British Museum, is proposing to hold a conference on "Former Methods of Conservation and Restoration" in November 1988. It will cover all materials, including prints and drawings, from both western and eastern cultures. Proceedings will be published. Abstracts are invited by October 31; send to Mrs. H. Lane, Dept. of Conservation, British Museum, Great Russell St., London WC1B 3DG UK.