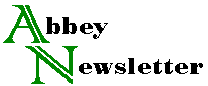 Volume 11, Number 4
Jun 1987
Events in the News
The April Library Conservation News says that a conservation exhibition was recently held in the Parker Library, Corpus Christi College, Cambridge University, featuring books and manuscripts of Archbishop Matthew Parker (1504-1575) which had been conserved over the last two years.
Last November, on the 20th anniversary of the Florence Flood, many of the conservators who had been involved in the rescue and restoration operation got together at the Biblioteca Nazionale in Florence. Eighteen papers were read by H. P. Pedersen, F. Gallo, J. McIntyre, M. Hey, A. Cains, D. Etherington, C. Clarkson and others. There is a report in the newsletter of the Centro di Studi per la Conservazione della Carta for February.
During April, May and June, Linda Blaser has been teaching three workshops on different aspects of binding, in the Resident Associates Program of the Smithsonian Institution. This program has been offering classes and workshops in bookbinding for many years, but it is not widely advertised. The teachers have all been first-rate. For more information call 202/357-3030.
On May 6, at 5:30 pm, Sir David Wilson spoke at the Morgan Library in New York on the lower cover of the Lindau Gospels bookbinding.
On May 7, Sylvie Merian and Nora Ligorano spoke at the Canter for Book Arts in New York on the recording of early books, specifically 16th and 17th century Armenian and Spanish bookbindings, from both a decorative and a structural point of view.
On May 12, from 11 am to 3 pm at the National Archives, a demonstration was held for the press of the monitoring system designed to monitor the condition of the Declaration of Independence, Constitution and Bill of Rights, which are enclosed in seamless glass containers filled with an inert gas. There have been no signs of deterioration in recent decades, but there has also been no monitoring program, so no one could be sure they were not deteriorating. The Charters Monitoring System consists of a camera and its accompanying computer system, and cost $3 million.
Saturday and Sunday, August 8-9, in Don Moines, the Library Binding Service is sponsoring a conference titled "The Lessons of History and Experience in the Design of Conservation Bindings." Speakers will be nine well-known conservators: C. Clarkson, D. Etherington, W. Anthony, G. Frost, W. Minter, A. Cains, G. Petherbridge, N. Pickwoad, and (as moderator) L. Ogden. The conference is designed to appeal to a wide audience. Attendance will be limited to 300. $60. Contact Salle Averkamp, LBS Archival Products, Box 1413, 2134 E. Grand Ave., Don Moines, IA 50305 (800/247-5323 or 515/262-3191).
March 27-30, 1988, at Robinson College, Cambridge, England, there will be the 1988 National Lighting Conference. Papers are being invited on all aspects of lighting. Contact the Member Services Dept. at the Chartered Institution of Building Services Engineers, Delta House, 222 Balham High Road, London SW12 9B5.... The Illuminating Society of North America has re-established its Museum and Art Gallery Lighting Committee, which is probably more involved with conservation than the above Building Services Engineers are. Contact Raymond Grenald, Chair, 11801 West Olympic Blvd., Los Angeles, CA 90064.