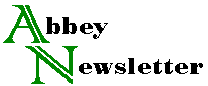 Volume 11, Number 2
Mar 1987
People
John Townsend will begin a new job with the Conservation/Preservation Programs in the New York State Division of Library Development on March 19. His address will be: Division of Library Development, Cultural Education Center, Albany, NY 12230.
Laura Wait completed a four-seek internship with Don Etherington at HRHRC during the fall of 1986. She concentrated on nonadhesive conservation binding.
Jan Merrill-Oldham is the subject of a two-page biography by Sally Grauer in the December New Library Scene.
Ken Harris has been named as Director of the Preservation Policy and Services Division at the National Archives. The Preservation Division includes the Document Conservation Branch and a new Special Media Preservation Branch (for preservation and reproduction of still photographs, motion pictures and sound recordings).
Alan Calmes, NARA Preservation Officer, has been detailed to head the Life Cycle Systems Coordination Staff.
Günter Brannahl, a leader in paper conservation in Germany, died in July 1986 at the age of 45.
Virginia Buchan is Book Conservator at Teacher's College, Columbia University.
Patrick Ravines is now at P.O. Box 155, Haifa, Israel 31001.
Roger Powell is still at work as he celebrates his 91st birthday this year.
Dutch bookbinder Janos Szirmai has won the Prix Germaine de Coster, an international prize awarded to the best binding from 20 countries, and administered by the Bibliotheque Nationale.
· Charles Long, who established the Book Conservation Center at the New York Botanical Garden Library, died in August 1986.
Mildred O'Connell is now Assistant Development Officer at the Boston Public Library.
Leslie Kruth has moved to Washington, D.C. because her husband Hal has accepted a job as Counsel to the Head of the International Trade Commission. Her forwarding address is USITC, c/o Hal Kruth, 701 E St., NW, Washington, DC 20436.
Carolyn Clark Morrow has married and is now Carolyn Morrow Manns.
Martha Little has moved to Santa Fe to work privately as a book conservator. Her studio is at 826 Camino del Monte Rey, #A4, Santa Fe, NM 87501 (505/988-1174).
Sam Ellenport will be moving the Harcourt Bindery to a new location in April: 51 Melcher St., Boston, MA 02210 (same phone).