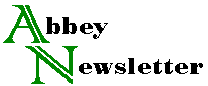 Volume 10, Number 6
Dec 1986
Positions Open
Paper Conservation Fellow
Conservation Center for Art and Historic Artifacts
The Center invites applications from candidates for a one-year Andrew W. Mellon Fellowship in paper conservation, beginning as soon as possible in 1987. Applicants should be graduates of recognized conservation training programs or individuals with equivalent apprenticeship experience. In addition to an annual stipend of $18,000 and benefits, funding is available to support travel and other professional activities.
Send resume with educational and professional experiences, a statement of intent and description of interests, and three letters of recommendation to: Eleanor Buczala, Administrator, Conservation Center for Art and Historic Artifacts, 264 South 23rd St., Philadelphia, PA 19103 (215/545-0613).
CONSERVATOR OF PAPER
Strong Museum, Rochester
The conservator of paper will work with the museum's conservator and the museum's librarian to analyze and prioritize collection needs, to equip the new paper conservation laboratory, and to prepare artifacts for exhibition and for loan. This is a new position which will also require of the successful applicant some promotional work in the form of seminars, workshops and grant writing.
Requirements: Degree in paper conservation, or equivalent education and experience.
Salary upon request. Excellent benefits package.
Send letter of interest with resume to Richard W. Sherin, Conservator, the Strong Museum, One Manhattan Square, Rochester, NY 14607. For more information, call 716/263-2700, x281.
PRESERVATION OFFICER
University of Maryland
The McKeldin Library at the University of Maryland has extended its search for a preservation officer, Librarian II.
Responsibilities: Responsible for the planning, implementation and administration of a comprehensive conservation/ preservation program for the UMCP Libraries, encompassing all aspects of materials treatment. Works with core group of bibliographers and reference librarian selectors.
Qualifications: Required: MLS from ALA-accredited program and advanced training in book conservation/preservation; or equivalent professional degree and experience in the conservation/preservation field. Four years minimum progressively responsible experience in an academic or research library, at least two of which must have been at the managerial level. Extensive experience in the treatment of library materials and comprehensive knowledge of preservation issues. Demonstrated ability to plan and carry out a conservation/preservation program, working with both faculty and library staff in the accomplishment thereof.
Salary: $28,700 minimum. Salary commensurate with experience. 22 working days annual leave; 14 paid holidays; 15 days sick leave; other generous benefits.
Position available immediately. For full consideration, submit resume and names and addresses of 3 references by December 31, 1986, to Virginia Sojdehei, Personnel Librarian, McKeldin Library, University of Maryland, College Park, MD 20742.
Jobs Advertised Elsewhere
The SAA Newsletter for November lists two jobs for people with a combination of archival and preservation or conservation skills. One is in Miami, the other in Philadelphia.