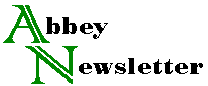 Volume 10, Number 6
Dec 1986
Events in the News
The marbling symposium at Harvard, "Ebru: a Symposium on the Art of Marbling in the Islamic World" (June issue p. 43) is reported by Muir Dawson in the October Fine Print. "Surely such an array of marbling expertise has never before been assembled in one place."
The noontime lectures on Jan. 6 and 27, and Feb. 17, will conclude a series on binding history at the Minnesota Canter for Book Arts, by Michael Norman. They are free. Call 612/338-3634.
The 80th Anniversary Exhibition of the Guild of Book Workers will be at the Detroit Public Library in December and January, the MIT Museum March through June, the University of Alabama Institute for the Book Arts August through October, and the Folger Shakespeare Library October through December. The catalog contains essays by jury members and other book workers including Hedi Kyle, Gary Frost, Bill Anthony, Norma Rubovits and Walter Hamady. All 72 items are pictured in its 183 pages. $25 plus $2.50 shipping & handling from P. Spitzmueller, GBW; 409 Constitution Ave., NE; Washington, DC 20002.
The AIC Photographic Materials Group meets Feb. 6-7 in New Orleans at the Monteleone Hotel to hear 15 papers, including James Reilly on learning tools, several presenters on case studies, Grant Romer on alternatives to exhibition of originals, and Henry Wilhelm on color print materials. Registration, members only, $45 till Jan. 10. For further information contact Debora D. Mayer, Secretary-Treasurer AIC/PMG, 312 Marsh Rd., Wilmington, DE 19809 (302/764-6288, evenings).
In Cambridge, England, March 29 - April 10, a conference organized by the British Council, "Conservation Crisis in Libraries: the Future of the Past," will deal with the acknowledged preservation problem in its historical, educational and scientific context, examining priorities and policies, and assessing solutions in the light of financial constraints. The conference is directed at senior staff responsible for management and library administration. the aim is to enable a small number of selected staff to learn about developments relating to their work both in Britain and abroad, and to participate in international discussion at a high level. Applicants from Britain, the USA and Switzerland should apply to: Director, Courses Department, British Council, 65 Davies St., London W1Y 2AA (01-499 8011). Applicants are advised to apply by Jan. 10.
The First Australian National Paper Conference will be in Hobart, Tasmania, May 15-18, 1987. Tin Barrett (USA) and Fred Siegenthaler (Switzerland) will be among the 14 speakers. Craftspeople, artists and others working with paper in Australia will share their experiences for the first time. Guests from abroad are welcome. Write Chris Milton, Tasmanian University, Research Company, GPO Box 252C, Hobart 7001, Tasmania, Australia.
The Society for Imaging Science and Technology, also known as SPSE although it is no longer the Society for Photographic Scientists and Engineers, is having its 40th annual conference May 17-22 in Rochester, New York. Ten sessions are planned, among them sessions on image restoration and reconstruction, photopolymerization, electrostatic printing and photographic gelatin.
Next summer Silvia Rennie will give another weak-long workshop on leather and/or vellum binding, this tine in a civilized house in Madison, her new hone: 126 N. Spooner, Madison, WI 53705 (608/233-9799). Subject matter and dates are to be determined by future attendees. As before, people can stay for free and cook as they please. Fee: $325 per person for six days.
A China tour in September 1988, sponsored by the International Institute for Conservation and organized by Susan Swartzburg and Marjorie Li, is shaping up. It may last three weeks and cost (for the land portion of the tour) about $2500. It will be timed so that people who are in the Far East for the IFLA or the IIC meeting can take the tour too.

In her report of the IPC tour to China in November 1985 (CAN, Oct. 1986), Sherelyn Ogden says, "The Chinese people we met on the trip are wonderful. They are polite, helpful, and eager both to learn and to share information. The trip was one of the most valuable experiences I have ever had."

The organizers of the Oxbow Paper and Book Intensive are regrouping, and will need 1987 for working out a new plan. There will be no event in 1987, but there will be one in 1988 and thereafter. The site will not always be Oxbow, and may not always be in the United States. Different regional sponsors will be chosen, and for continuity PHI will have an active director end administrative center. One thing will not change: the actual event site will be in a natural setting with facilities conducive to a full day of work, relaxation and exchange. (This information came in an open letter from PHI Directors Gary Frost, Hedi Kyle and Tim Barrett, received November 20.) for more information, contact T. Barrett, Ad. Director, Paper and Book Intensive, c/o School of Art and Art History, University of Iowa, Iowa City, IA 52242.

URL: http://
Timestamp:
Retrieved: