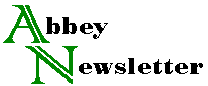 Volume 10, Number 6
Dec 1986
People
Abigail Quandt will continue her conservation work on manuscripts at the Walters Art Gallery for another year on an NEH grant.
The Columbia University conservation interns for this year are: Rosemary Fallon, who will be interning at the Library of Congress in the Book Section; Hilary Kaplan, at the Humanities Research Center in Austin; Susan Lunas, at UC-Berkeley; and Nary Pound, with Nicholas Pickwoad, private conservator and Advisor on Book Conservation to the National Trust, in England.
Lisa Mibach, formerly Chief Conservator for the Provincial Museum of Alberta, has accepted the position of Director of the Intermuseum Conservation Laboratory in Oberlin, Ohio.
John Perkins, formerly of Parks Canada Historic Resource Conservation in Halifax, is now working with the Getty Conservation Institute in California.
Shannon Zachary started working with Marilyn Weidner in November on an NMA grant to develop techniques using Ms. Weidner new moisture chamber/suction table/ultrasonic humidifier/air filter system.
Vicky Adamitis is the new preservation officer at Stanford University.
Annagret Hunter-Elsenbach won the Canadian Competition for the Germaine de Coster International Prize contest for designer binders and represented Canada at the International Contest and Exhibition in Paris recently.
Kathy Orlenko began work in September at the Walters Art Gallery on an NEA-funded project to rehouse about 600 bound volumes in the manuscript collection.