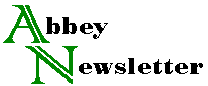 Volume 10, Number 5
Oct 1986
People
Linda Fagen, formerly Assistant Conservator at the Minnesota Historical Society, was recently appointed Archives and Manuscripts Conservator in the Marriott Library of the University of Utah, Salt Lake City.
Gary Frost has concluded a five-year term as book conservation instructor in the library and archives conservation program at Columbia University. He has donated 43 models of historic binding structures to the program.
Susan Barger has accepted a post as Research Associate in the Materials Science Department of Johns Hopkins University.
Paul Perrot was elected president of the ICCROM Council by unanimous vote last May. (ICCROM also has a General Assembly, of which the president is A. C. da Silva Telles of Brazil.)
Esther Boyd-Alkalay will leave the National Maritime Museum in Middlesex at the end of November for Israel. Her new address there will be Rehov Rainess 17, 53460 Givataim.
Silvia Rennie has a new address, effective about November 1: 126 N. Spooner, Madison, WI 53705. She also has a one-woman exhibition in the University of Wisconsin, Madison, Rare Book Room, until mid-November.
Scott Kellar is now employed by Northwestern University Library as Book Conservator/Head of Conservation Treatments, in the newly constructed conservation lab.
Linda Overman, Documents Conservator at the Mississippi Department of Archives and History, just concluded a term as President of the Society of Mississippi Archivists.
Mark Esser has accepted the position of instructor of the bookbinding course at the North Bennet Street School in Boston.
Lynette Van Wagoner (Vaughn L. V. W. Terpack) has left the Library of Congress Conservation Office. She owns and operates Miscellanea, Inc., a business devoted to book conservation, restoration and repair.
James K. Wellvang, formerly of the University of the West Indies, Jamaica Campus, took up new duties August 1 as head of the Conservation and Preservation Department at the University of Texas at Arlington. He is a graduate of the Columbia program and a native of Minnesota.