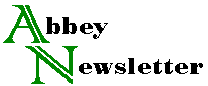 Volume 10, Number 5
Oct 1986
Petherbridge Teaches at Columbia
Guy Petherbridge, the distinguished book conservator, codicologist, and student of Greek and Islamic book history, has accepted an appointment as Visiting Associate Professor in the Conservation Programs of the School of Library Service, Columbia University, New York City. Mr. Petherbridge started teaching the bookbinding and book laboratory courses at 513 this fall.
Mr. Petherbridge has been in independent conservation practice since 1974, specializing in the treatment of manuscripts, early printed books and archival materials for private and institutional library and museum collections in Europe, the Middle East, Africa, and elsewhere--ranging from fire-damaged volumes in the Falkland Islands and the monastery of San Lazzaro in Venice to the Moritz Collection of Islamic bookbindings.
He has served as a consultant to national conservation institutions and programs for the governments of the United Kingdom, Greece, Canada, Spain, and Turkey, among others. He was the founding editor of the publications of the Institute of Paper Conservation, the Paper Conservator and Paper Conservation News, and a member of the governing body of that organization.
Among his major recent efforts have been interrelated projects in Greece: advising on a national preservation and conservation system for the country's historical libraries and archives; the renovation of the library of the Monastery of Saint John the Theologian, Patmos; and planning a conservation center for the monastic library and archives holdings of Mount Athos.
Mr. Petherbridge helped organize the 1980 Cambridge International Conference on the Conservation of Library and Archival Materials and the Graphic Arts, and was Consultant Curator and Conservator for the 1981 exhibition and symposium on Islamic bookbinding at the Oriental Institute of the University of Chicago.
His many publications include important works on leaf-casting technology and (with Gulnar Bosch and John Carswell) on Islamic bookmaking. He is currently collaborating with John Sharpe of Duke University on the Byzantine and Post-Byzantine Bookmaking Traditions: Bookbindings in the Library of the Monastery of Saint John the Theologian, projected for publication by the University of California Press, and is preparing the festschrift Studies in Bookmaking and Conservation in Honour of Roger Powell. The proceedings of the 1980 Cambridge conference have just been published by Butterworths under Mr. Petherbridge's editorship.
Mr. Petherbridge has spent many years as a student of medieval and post-medieval art and architectural history of the Balkans, North Africa, and the Near East, later coming to specialize in codicology and concentrating on binding history. His formal education included study at the University of Queensland, the Australian National Art School, the University of Florence, and the Camberwell School of Art and Crafts, from which he received a Certificate in Archive Preservation and Repair in 1974. He is a Fellow of the Royal Asiatic Society.
Mr. Petherbridge was born in Australia. He lived in England and Greece from 1966 to 1981. Since 1981 he has been a resident of Austin, Texas.