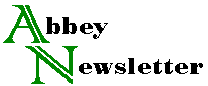 Volume 10, Number 5
Oct 1986
Supplies
The source for the Bamilex Reinforced Fabric Style XP403, described in the last issue, is Bay Mills Limited, Bayex Division, P0 Box 728, St. Catharines, Ontario L2R 6Y3, Canada.
Flood Alerts from Direct Safety Co. (cat. # R11-201) are only $16.15 each. Write 7815 So. 46 St., Phoenix, AZ 85044.
A new supplier of bookbinding supplies and equipment is Johnson Bookbinding Supply Co., Suite 175, Memorial Bldg., 610 N. Maim St., Blacksburg, VA 24060 (703) 552-0876. Most of the 38 items listed come from Europe, mostly West Germany or the Netherlands. There are four kinds of linen cloth, two of which are synthetic and two of which are cotton.
Kathryn Gerlach (The Old Mill, Shaftsbury, VT 05262) is selling her complete bindery. Anyone interested should contact her directly for information.
The University of Utah, Marriott Library, would like to purchase a used Hollinger phase box maker. Please contact Linda Fagen at 801/581-5147 or University of Utah, Marriott Library, Preservation Dept., Salt Lake City, UT 84112.