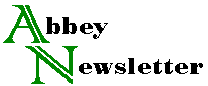 Volume 10, Number 4
Aug 1986
Events in the News
A day-long workshop on commercial library binding is offered September 16 in Greenville, North Carolina, by SOLINET (Southeastern Library Network, Plaza Level, 400 Colony Square, 1201 Peachtree St., N.E., Atlanta, GA 30361). Instructors: Carla Montori, Lisa Fox and Sally Grauer. Some of the topics to be covered: binding procedures and options, selecting materials to be commercially bound, a decision-making system for making binding choices, and evaluating the work of library binders. A similar workshop, but of broader scope, was held May 1-2 at the Northeast Document Conservation Center in Massachusetts. Other workshops on this topic have not been announced nationally until this year.

Registration is $40 for SOLINET members, $50 for non-members. For more information call Lisa Fox, 404/892-0943.

The AASLH annual meeting September 30-October 3 in Oakland, California, will have some features on conservation. Christine Young will give a day-long workshop on "Preparation of Paper Objects" (minimal treatment before exhibiting or storing them); Shelley Reisman Paine and Judith Fortson-Jones will give a half-day workshop on "Maintenance and Preparation of Collections for Storage"; a panel made up of Young, Paine and Ruth Weant (of IMS) will discuss "Applying for a Conservation Grant." the preliminary program reminds us that one of the services of the American Association for State and Local History in the National Information Center for Local Government Records, which sends out information on records management, of which conservation is a part.
The Guild of Bookworkers Seminar in Iowa City October 3 and 4 is announced in a flyer that can be had from Conference Center, 210 Iowa Memorial Union, the University of Iowa, Iowa City, IA 52242 (319/353-5505). The program starts with an open house the evening of October 2. Registration is $80 and includes the banquet; rooms are $27.88 up.
The Ottawa Regional Group of the IIC-CG is planning a seminar for October 25-26 on "Guidelines for the Establishment of a Private Conservation Practice." Fees will be about $50 Canadian. Contact Kate Frame, Sandra Webster Cook or Helen MacKay at CCI, 1030 Innes Rd., Ottawa, Out. K1A 0M8.
The medieval book seminar will be conducted in Santa, Idaho, from 1-10 June, 1987. The object of the seminar is to acquaint book conservators and curators who are responsible for the preservation of early manuscript books with the methods and materials which went into their construction. To accomplish this, each participant will make paper, thread and cord from flax; parchment from goatskin; boards from oak; clasps and rivets from brass; and put all of these materials together in the form of a bound book, except for the paper and parchment they work on. Since both these materials need time to season, participants will use stocks made up in advance.

Each participant will be given handmade paper to fold and sew in quires on the first day of the seminar. This will be used as a notebook. By the end of the seminar, the notebook will be pulled, re-sewn, and bound in the boards prepared by the participant during the course of the seminar. The cost of the seminar, including tuition, room and board, and transportation to and from the Spokane airport, is $400. Limit: 10. Contact Jack C. Thompson, Thompson Conservation Laboratory, 1417 N.W. Everett, Portland, OR 97209 (503/248-0046).

URL: http://
Timestamp:
Retrieved: