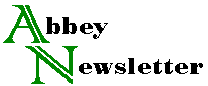 Volume 10, Number 2
Apr 1986
Supplies &c.
Column Editor: Robert Espinosa
For Sale By Owner
Silvia Rennie will be selling her Jacques board shear in late Spring or early Summer. It is in very good condition, has a 40-inch blade, wooden top, with parallel back and front gauges, needing some slight adjustments. Price: $2000. Contact Silvia Rennie, 705 Hwy. 51 E., Stoughton, WI 53589.
Suppliers
In response to a request by the column editor, Andrews/ Nelson/Whitehead, distributors of J. Hewit & Sons' leathers, can supply Hewit' s Super Chieftain skins in an all natural finish without dyes, pigments, or other surface finish. The color is the natural color of the vegetable tanned skin, which is warmer than the "natural" shade in the Chieftain swatch book. The Super Chieftain goatskins are heavier skins than the Chieftains, 3½-4 oz. skins as compared to the 2 to 2½ oz. Chieftain skins, and average 6 to 9 sq. ft. (Chieftains run 7 to 9 sq. ft.). Both the Super Chieftain and Chieftain skins are Indian goatskins which are vegetable tanned and aluminum retanned by Hewit in Edinburgh, and also come in 15 different colors, usually with a somewhat pigmented finish. The price for Super Chieftain skins runs about $12/sq. ft. Contact Karen Crisalli, Andrews/Nelson/Whitehead, 31-10 48th Ave., Long Island City, NY 11101 (800/572-7200).
Braunwarth & Lüthke, a West German supplier of materials for book restorers, has sent a current price list to the column editor. Among other items, they supply beech planks in one-meter lengths and various widths and thicknesses for wooden bookboards, and they carry the leathers and leather dyeing supplies referred to in the Wilhelm Ziegler article "Leather Dyeing for Book Restoration," translated from the German and published in AN Vol. 8, No. 1, Pt. 3 (Feb. '84). Copies of the price list will be made and mailed to anyone sending a SASE to the column editor, or may be obtained directly from Braunwarth & Lüthke, Postfach 140 125, 8000 München 5, West Germany.
Library Binding Service, specializing in the manufacture and distribution of quality bookbinding materials for library binding, has introduced a new Archival Products Division, under the direction of Robert Strauss, formerly of the University of Minnesota. Several items of interest are now being offered from this division. First, they have introduced a new line of pamphlet binders, developed jointly by LBS and the Conservation Department of the University of California Berkeley. They are made from a high density acrylic coated pH neutral, buffered board, with an acrylic coated C-l grade spine cloth. They are available in 11 sizes, each size with five different possible spine widths, for a total of 55 possible combinations, priced from $1.60 to $4.00 each. This pamphlet binder is also available with a 20-mil clear polyester front cover at no extra cost. They are designed to have the pamphlet sewn or saddle stitched into the folder. Secondly, they are offering a new book reproduction service for embrittled paper using the latest photocopy equipment to produce the highest quality of image, both in terms of density of solids and proper fusing of toner, to be bound using the leaf attachment of your choice. Their stated goal is to develop archival products through cooperation with product users, and they welcome all suggestions and input. Other items under development include a line of pamphlet containers for housing material not attached to the covers, a new adhesive binding system, and a new line of bookcloths using synthetic and natural fiber blends to improve on Grade F buckram. Contact Robert Strauss, LBS, 2134 E. Grand Ave., P0 Box 1413, Des Moines, IA 50305 (800/247-5323).
There are a variety of sources for polyester film for encapsulation purposes on the local, regional, and national levels. a source for archival quality polyester film which has proved both reliable and economical was recommended to the column editor by Bill Minter. Pilcher-Hamilton, a plastics distributor and polyester film converter, with regional offices around the U.S., will supply Dupont Mylar Type D or ICI Melinex 516, both of which meet the specifications for archival polyester, in either roll or sheet form. the need for reliability in the supplier cannot be underestimated, given the difficulties in verifying any particular grade of polyester film. Pilcher-Hamilton will guarantee to be supplying the type of polyester requested, and has demonstrated dependability in meeting requests for the above-mentioned types of polyester WITHOUT substitutions. This is an absolute most when purchasing polyester film for archival purposes. The current price is $3.25/lb. Whether sheeted or in roll form, with a minimum order of $200. The sheeted film comes with or without interleaving, and may be packaged in lots of 100 sheets. Sheeted polyester for encapsulation purposes has obvious working advantages and can be ordered in appropriate precut sizes. Pilcher-Hamilton's main office is at 1850 5. 25th Ave., Broadview, IL 60153 (312/343-6660).
Iris Nevins, Hand-Marbled Paper, announces custom made papers made to traditional patterns in color themes of the customer s choosing, in addition to a pattern-matching service, at no extra cost. Marbled papers are stocked on an ivory vellum printing paper or a natural white laid paper and measure 17½" x 22½", but can be supplied on any paper of the customer's choosing provided it accepts the colors without running. Prices depend on quantity ordered, and range from $3/sheet to $4.50/sheet. For more information and reference to the work see the books Traditional Marbling and American Decorative Papermakers or write to Iris Nevins, Hand-Marbled Paper, R.R. 3 Box 613, Sussex, NJ 07461 (201/875-4950).
Custom Fit Book Boxes
Two additions to the list of firms supplying custom fit book boxes, in the September '85 AN:
Catawba Press & Bindery
39 Chapel St.
Northampton, MA 01060
(413) 586-0492

Margit J. Smith, Bookbinder
The Booksmith
9956 Cummins Place
San Diego, CA 92131