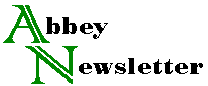 Volume 10, Number 2
Apr 1986
Hurry! Get Your Andrea Doria Banknotes Now! Only $299 Apiece
Theo Kahle has forwarded an advertisement from "The Sharper Image" catalog (650 Davis St., San Francisco, CA 94111) for the Italian lire notes rescued from the ocean bottom and restored by paper conservators at NEDCC and CCAHA (AN, April 1985). Excerpts:
"Risking the fury of the Atlantic to recover treasure from the sunken ship. Anchored for 33 days over the wreck, the hostility of the weather, currents, sharks, and other hazards is matched by the reticence of the Doria herself. Resting on her wounded side, she seems determined to refuse entry to the divers. Despite a raging hurricane, the crew miraculously manages to locate and salvage the first class bank safe, filled with Italian currency.

"The notes were shipped, deep-frozen at -20°, to the country's foremost paper conservators in New England. There, expert currency restorers worked for months over the wet, compressed bundles, surgically removing each note, which was then rinsed, de-acidified, flattened, blotted, air dried--and finally, restored to life."

...The Lire seem to float between two 3/4" thick pieces of pure, optical-grade acrylic, bonded at the corners by four solid brass fasteners adapted from traditional naval hardware.... Below the note is your Certificate of Authenticity, individually signed by Peter Gimbel and Elga Andersen. Comes in an elegant presentation box.... Each restored Lire bank note has been beautifully etched by the sea for a quarter of a century. No two notes are the same."
Both the Northeast Document Conservation Center and the Conservation Center for Art and Historic Artifacts are strictly professional organizations, and should not be judged by the frankly commercial use to which their clients have put the materials they worked on. Bearing this in mind, it is possible to enjoy this example of purple prose, so primitive and single-minded, so heedless of grammatical rules. The Editor, as a sort of connoisseur of the audacious and ghastly in popular literature about conservation, will file this ad next to Heloise's hint about preserving newspapers with hair spray, and stories about bookbinders who singlehandedly are preserving a lost or dying art.