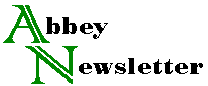 Volume 10, Number 1
Feb 1986
News
International Association Serves Hand Papermakers
The newly created International Association of Hand
Papermakers and Paper Artists is seeking members. The aim of the association will be to assist communication between individual papermakers and paper artists, to provide information about what is being done worldwide, to found a library of literature on hand papermaking and paper artists' work, to publish an IAPMA Bulletin, and to arrange meetings, exhibitions, and congresses. The IAPMA Bulletin will contain articles, news, and essays. Particular attention will be given to the discussion of books and hand papermaking and paper artists techniques such as fiber processing, search for new fibers, dyeing of paper, artistic styles, etc. All articles will be in English in full or as abstracts. Membership is open to anyone with an interest in papermaking and paper art. For more information write to Fred Siegenthaler, Stockerstrasse 2, CH-4132 Muttenz, Switzerland. [From Jan. -April 1986 Fine Print II]
More Sources of Facsimiles (Bound Photocopies)
In the December issue, the services of a company called Teleprint were described. Teleprint can photocopy, bind and deliver out-of-print and brittle books, using current standards for permanence and durability of paper and binding, and taking care of copyright problems. Now other sources of the same or similar services have come to light. They may be the vanguard of a new industry that offers a viable alternative to microfilming of endangered books. Unlike inhouse photocopies, which may look the same as the commercially supplied copies, these will be backed up by a digital or microfilm master, if the supplier uses a process that works from a master and keeps an archival copy.
University Microfilms International has a "Books on Demand" service that used to furnish only Copyflo copies made from their microfilm originals. Now UMI is furnishing good, sharp, two-sided paper copies, as well as Copyflo copies as before. Further information may be obtained from UMI, 300 N. Zeeb Road, Ann Arbor, Ml 48106 (800/732-0616).
Image Prints, Inc., in Lansing, Michigan, "can take your original material and reproduce this material onto acid free paper and return back to your library a bound (per your specification) book ready to be replaced onto your shelves." Their address is 2730 Alpha Street, Lansing Ml 48910 (800/782-4502); this is the same address as the old Wagenvoord-Riegel Bindery, now called Binding Unlimited. They can also convert to microform following Library of Congress guidelines.
Library Binding Service is making commercially available the same photocopy facsimile service that Bob Strauss was using at the University of Minnesota bindery. Address: P.O. Box 1413, Des Moines IA 50305 (800/247-5323).
NEH, NEA & IMS Reauthorized; Curran Rejected
The January issue of Aviso brings the news that the National Endowment for the Humanities, National Endowment for the Arts and the Institute of Museum Services have been reauthorized for another five years, with appropriations of $139.4, $166 and $21.5 million respectively. The two endowments will be required to conduct extensive post-award evaluations of projects funded, and review panels must be composed of persons "broadly representative of esthetic perspectives, geographical regions and cultural diversity." There must be at least an 80% turnover on the panels every three years.
Edward A. Curran, nominated by the President to be chairman of NEH was rejected on a close vote by the Senate Labor and Human Resources Committee in November. Curran lacked academic credentials, had little experience with scholarly research, and had drawn criticism for his administration as head of the National Institute on Education.
Selectec Duo Copy Installed in British Libraries
The small face-up copier described on the front page of the May issue of this Newsletter has gone through three versions, and is mow being delivered to customers. Seven were installed in the United Kingdom during January 1986: two for the British Museum, and one each in the Bodleian, University of London, Wellcome Institute, Kew Gardens, and National Library of Wales. There has been one in use in the British Museum for almost a year, just off the reading room, operated by staff.
The latest model was exhibited at the American Library Association annual meeting. It will also be exhibited at Hanover in March; the IPC conference in April; two places in Italy; and eight or nine other library shows internationally.
The strong feature of this copier as far as preservation is concerned is the nondestructive nature of the process. There is no handling of the book aside from placing it in the cradle and turning the pages, and no pressure is required for copying tightly-bound books. It copies to within two millimeters of the gutter, and the machine can be adjusted to provide an additional half-inch on the copy for binding, if necessary.
The copier is operated from a sitting position in front of it. It does about six pages a minute. The image is sharp. Maintenance can be performed by authorized local dealers. It costs about $14,000.
New Address of Leather Conservation News
LCN has settled down to life in its new home in Texas. A news release received in November gave the following information:
LCN is now being published by the Materials Conservation Laboratory of Texas Memorial Museum at the University of Texas at Austin. Subscriptions are available at a rate of U.S. $8.00 for Vol. 2, nos. 1 and 2 (Fall 1985 and April 1986). Checks should be made payable to Texas Memorial Museum and mailed to LCN, Materials Conservation Lab, BRC 122, 10100 Burnet Rd., Austin, TX 78758.
The editorial staff of LCN would particularly like to encourage all of its readers to contribute to the exchange of information on leather conservation by reporting on research projects and problems encountered in the conservation and preservation of leather and related materials. Dates for submitting material for the April issue will be the first working day of January; for the October issue, the first working day of July. Manuscripts, reviews, historical notes and announcements may be sent to any member of the LCN staff at the addresses below:
Toby Raphael, Editor
Box 819
Shepherdstown, WV 25443

Sara Wolf Green, Assoc. Ed.
Paul S. Storch, Tech. Ed.
Materials Conservation Lab
BRC 122
10100 Burnet Rd.
Austin, TX 78758

Todor Stambolov, Assoc. Ed.
Pieter Hallebeek, Tech. Ed.
Central Research Laboratory
Gabriel Metsustraat 8
1071 FA Amsterdam
Holland
The publications department of Texas Memorial Museum is currently negotiating to obtain the reprint rights for the first four issues of LCN. As soon as it is possible to do so, these will be reprinted in a single volume and made available to the readership.
Lloyd's "Water Damage Restoration" Business
Lloyd Weaver, who claims to have invented the concept of on-location drying, gives one-day workshops in "water damage restoration" at different locations for $250 per person. He says these are complete training programs. Each participant gets a manual and walks away with a certificate, ready to enter this rapidly growing line of work, which "can bring you profit margins up to a 60% to 70% average!"
There is only one more step to take before hanging out one's shingle: to buy a $1,495 package of equipment, composed of three fans, one small dehumidifier and one "aqua-sensor" of a sort that does not look like it would work on books. Mr. Lloyd sells this package.
The training, which "makes you an expert in water damage restoration work," gives equal emphasis to procedural matters like "How to stop, reverse and inhibit mildew and mold" and practical considerations like "How to collect" and "How to control the insurance payment money."
Lloyd's is now offering a 20% discount on each item in the equipment package. For more information contact Lloyd's, Inc., 2911 W. Omaha, Rapid City, SD 57702 (605/343-5694 or 343-5705).
Environmental Control Made Possible By Grant
Northwestern University has been awarded a $750,000 grant by the Pew Memorial Trust, Philadelphia, Pennsylvania, toward the installation of state-of-the-art environmental controls in the University libraries. This is the result of a fund-raising project that began in late 1982, with the goal of financing not only the environmental controls, but to relieve overcrowding in the stacks, improve security and fire prevention procedures, and install exhibit cases for the University's most valuable collections.
Northwestern's three-million-volume library system includes University Library (three towers and the adjoining Deering Library); five branch and special libraries on the Evanston campus; and four libraries on the Chicago campus.
The Pew Memorial Trust's grant is supplemented by significant donations from individual donors and benefactors. The Trust, originally established in 1948 as the Pew Memorial Foundation, is the oldest and largest of six trusts funded by the Pew family. It was created in memory of the late Joseph N. Pew, founder of Sun Oil Company, and by his wife, Mary Anderson Pew. The trusts are dedicated to religious, charitable, scientific, literary and educational purposes, all concerned with the public welfare.
Richard Frieder became Conservation Officer at Northwestern University last spring.
A Belgian Town for Book Lovers
Redu, a small village in Belgium, is becoming an international center for rare and used books, along with its sister city, Hay-on-Wye in England. In addition to 20 bookstores, there is a studio for making handmade paper, a hand bindery, an engraving studio, a print and an art gallery. In May and June of 1985 they held an exhibition, demonstrations and various workshops in bookbinding accompanied by films and slides. They hope to become the center in northwest Europe for rare and used books for booksellers and private collectors. For more information, write Redu Initiative, Maison Communale, 8-6914 Redu (Libin), Luxembourg. (from Art et Metiers du Livre, 29 April 1985, as quoted in the October GBW Newsletter.)
D.C. Book Conservators Hold Regular Meetings
A recently formed group of book conservators in the Washington, DC area, led very informally by Frank Mowery of the Folger Shakespeare Library, began meeting last year on a monthly basis to discuss recent techniques and methods in book and paper conservation. As the group is getting into its second year, it is becoming a little more organized and plans meetings at least two months in advance so that everyone interested may plan to attend.
The meetings start about 6:00 p.m. and include refreshments before the talks or discussions. Meetings are not restricted to book conservators. Anyone interested in attending these meetings should contact Frank Mowery (202/544-4600) in Washington or Abigail Quandt (301/547-9000) in Baltimore beforehand, to provide a head count for refreshments and number of chairs needed. [From the Winter 1985 Deckled Edge]
Horsham Book Shop Moves
Since March 1984 the Horsham Book Shop has been specializing in new and out-of-print books for bookbinders. Now it is closed, but the owner is continuing the business by issuing catalogs from home: 80 Coring Way, Coring-by-Sea, Worthing, Sussex BN12 4TY. [From a notice in December Designer Bookbinders Newsletter]
Midwest Cooperative Conservation Program Ends
The Program's Newsletter for December 1985 was "Number 11 and last." the front-page article explained:
The region's institutions have progressed so far in awareness of and commitment to preservation concerns that NEH considers the facilitation and advocacy functions of MCCP superfluous. Thus, NEH turned down our proposal for continuation and expansion of MCCP s services.
Some of MCCP's services will be continued through the Illinois Cooperative Conservation Program: the Audiovisual Program Loan, the Disaster Preparedness Portfolio Loan, the Environmental Monitors Loan, the Exhibit Loan, and Slide Sales.
NIC Broadens Membership Base
The National Institute for Conservation opened up a new membership category in October that makes it possible for more organizations to join, take part in discussions and influence national policy recommendations for conservation. Libraries and archives, now underrepresented among the membership, are especially invited to join as Affiliated Institutional Members. This is a non-voting category. Even membership organizations like regional conservation groups may join. For more information, write David A. Shute, Executive Director, National Institute for Conservation, a & I - 2225, Smithsonian Institution, Washington, DC 20560.
More Mailing Lists
Dunhill International List Co., 2430 W. Oakland Park Blvd., Fort Lauderdale, FL 33311-1424, sells lists of administrators and officials at 3,300 colleges and universities, for $35/thousand. 1-800-223-1882 outside Florida.
Hugo Dunhill Mailing Lists, Inc., 630 Third Ave., New York, NY 10017 (1-800-223-6454 outside New York State) have a gigantic list of the lists they carry, printed newspaper-style on yellow paper. $40/thousand.
New Bookbinding School in Paris
A new school of bookbinding, with full-time courses and workshops (including a three-day course, in English, on paper marbling) is now being offered in Paris. Contact Atelier d'Arts Appliqués du Vezinet, for which we have two addresses. The Guild of Book Workers Newsletter for October says it is at 28 his, Chemin du Tour des Bois, 78400 Chatou, France, and the SOBBR Wales & West Newsletter for March 1984 says it is at 37 Bd d'Angleterre, 78110 Le Vezinet, Paris, France. Annie Persuy is President.
New American Bookbinding Program
This year the North Bennet St. School will start a two-year full program in bookbinding, leading to a degree and diploma. Contact Walter McDonald, Director, North Bennet St. School, 39 No. Bennet St., Boston, MA 02113.
Exit Control Training Aid
A videotape and training package for exit control personnel has just been produced by library personnel at Brigham Young University. It costs $50, lasts six minutes, can be ordered in any format (even as a 16mm film, for a price), comes with a package of training materials for an additional fee, and is distributed by the Exit Control Training Program, 3080 HBLL, Brigham Young University, Provo, UT 84602.
The videotape was produced with the aid of professional producers, actors and other personnel. In the first month after it went on sale in October, 38 were sold. Its main use is expected to be as an element in a one-hour training program that comes complete with a multiple choice test, for library exit control personnel. Arrangements can be made to preview the tape. Its title is "Library Security: Exit Control."
Miscellany
Studies in Conservation, the journal of the International Institute for Conservation, is looking for papers on subjects which have not been represented recently and which merit attention. One of these subjects is conservation of books and archival material. . . . In December, Information Conservation, Inc., of Horsham, Pennsylvania, acquired Joseph Ruzicka South, Inc., of Greensboro, North Carolina. Both binderies will continue to operate as separate businesses. . . . Fine Print now costs $48 per year (about 244 pages, or almost 150,000 words per year, plus illustrations; AN has about 125,000 words per year, by comparison). . . . Conservation Resources International ran out of space on North Royal St., so they moved in June to 8000 H Forbes, Springfield, VA 22151 (703/321-7730). They also operate in Australia, Canada and England.