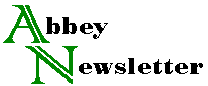 Volume 9, Number 7
Dec 1985
Oxbow Book & Paper Intensive - A Report
by Louise Genest-Côté
Reprinted with permission from the September Journal de l'Association des relieurs du Quebec, p. 72. The author is the president of the bilingual Association des relieurs du Quebec.
The Book and Paper Intensive was held at Oxbow, Michigan, from the first of July to the 21st. This is the second year that I have attended this intensive program: workshops, conferences, slide show, round table... enough to make one's head spin. All this in an extraordinary setting.
Oxbow is unique; it has a very special atmosphere. It is said that Oxbow is magic and I tend to believe it.
This year the BPI was directed by Hedi Kyle and Gary Frost. Each week had its specialty:
First week: Oriental and western hand papermaking (cotton, linen, abaca, kozo, mitsumata), sizing, colors and retention aids. Instructors were: Elaine Koretsky, Kathryn Clark, Richard Flavin and calligraphy with Janet Lorence.
Second week: the artist's book: binding and text, visual structure and analysis. Instructors were: John Wood, Keith Smith, Hedi Kyle. Also, there was Richard Minsky who, because of his latest craze--the tango--preferred to give dance lessons.
Third Week: Book conservation: historical prototypes, the evolution of binding, the problems and management of library collections, medieval book binding, conservation bindings. Instructors were Pamela Spitzmueller, Carla Montori, Christopher Clarkson and Gary Frost.
And more: Japanese style wood block printing, Nepalese handmade paper, alum tawing vellum, paste papers, old Japanese binding called Dai Fuku Cho, guests of honor such as Ed Colker, Don Etherington, decorative log-stitch binding, "how to photograph your art," and an archival photo album.