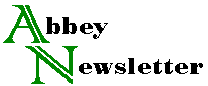 Volume 9, Number 5
Sep 1985
Supplies &c.
Column Editor: Robert Espinosa
For Sale By Owner
Robert Bruckman has various bookbinding tools, equipment, and supplies for sale, including a little French standing press, 19" Chandler & Price guillotine cutter, Lying press and tub, Combination press and Sewing frame, and miscellaneous tools. Contact Robert Bruckman, P.O. Box 96, Inverness CA 94937 (415/669-1367) or Stella Patri, 1828 Mason St., San Francisco, CA 94133 (415/982-2595).
Suppliers
Kreinik Mfg. Co. Inc., "The Silk People," who exhibited some of their beautiful wares at the AIC Washington conference, are a specialty house for silk and metallic threads and yarns. They also carry a wide variety of needles and sewing sundries. Contact Kreinik Mfg. Co. Inc., P.O. Box 1966, Parkersburg, WV 26102, (800) 624-1928.
J. Hewit & Sons Ltd. have moved to Camden after nearly 30 years in Sc. John St. The new address is 3 Prowse Place, of f Bonny St., London NW1 9PH, tale: 01-485-6252. The London office is a warehouse and sales office. The Head Office and Tannery remains in Edinburgh.
The Vermont Country Store carries a hand clothes wringer, a solid metal wringer with 11" rubber rollers which attaches to the edge of a sink or tub. This may be useful for case-making, to give a quick nip to the case, or possibly for removing excess size in the re-sizing of paper. Catalogue No. 15314, $98.00, from the Vermont Country Store, Mail Order Office, P.O. Box 3000 Manchester Ctr., VT 05255-3000.
Custom Fit Book Boxes
The following responses have been compiled from the request in the July 1985 AN for firms who can supply custom fit book boxes from measurements supplied by the client.
Bridgeport National Bindery, Inc.
P.O. Box 289
104 Ramash Circle South
Agawam, MA 01001
(413) 789-1981
Conservation Resources
8000 H. Forbes Place
Springfield, VA 22151
(703) 321-7730
Jerilyn Glenn Davis, Inc.
P.O. Box 1712
New York, NY 10025
(212) 864-4330
The Heckman Bindery, Inc.
P.O. Box 59
North Manchester, IN 46962
(219) 982-2107
Information Conservation, Inc.
935 Horsham Rd.
Horsham, PA 19044
(215) 674-0486
Craig Jensen
1403 Justin Lane
Austin, TX 78757
(512) 451-8647
Kater-Craft Bookbinders
4860 Gregg Rd.
Pico Rivera, CA 90660
(213) 692-0665
International, Inc.
Kirby's Krafties
867 N. 380 West
Provo, UT 84604
(801) 373-6440
John Rename
Portfoliobox, Inc.
166 Valley St.
Bid. #3 - 402
Providence, RI 02909
Fred Schueren
5100 Ellington Ave.
Western Springs, IL 60558
(312) 246-0170
Scriptorium Bookbinding
4827 North Damen Ave.
Chicago, IL 60625
(312) 728-1169
Talas
213 W. 35th St.
New York, NY 10001-1996
(212) 736-7744