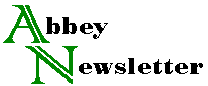 Volume 9, Number 3
May 1985
Supplies &c.
Column Editor: Robert Espinosa
For Sale By Owner
27" Kutrimmer, $500, and assorted finishing tools. Contact Gregory Minnick, 1400 Meridian Ave., Apt. 6, Colonial Heights, VA 23834 (804/520-1929).
Kwikprint Geld Stamper, Model 55, 2" x 5½" typeholder, $495, and Michael Cutter, 14", $225. Contact James F. Rigg, 20 Balsam Drive, E. Greenwich, RI 02818 (401/884-2237).
250 good quality used press boards with stainless steel edges, 18" x 24", 10 or less @ $10.00; 11-25 @ $7.50; over 25 @ $5.00. Contact Bridgeport National Bindery, Inc., 104 Ramah Circle South, Agawam, MA 01001 (413/789-1981).
Corrections
Claire Maziarczyk writes that for her 29 contemporary paste papers on neutral pH paper, a sample book and price list are available for $4.50, not $3.50 as reported in an earlier column (Vol. 8, No. 6 Dec. 1984). Checks payable to Claire Maziarczyk, 710 Willow Ave. #18, Hoboken, NJ 07030.
Don Guyot of the Colophon Hand Bookbindery writes that he Is working with Whitman Products, Ltd., the US distributor for the paper-backed bookcloths from Bamberger Kaliko (see Vol. 8, No. 6 Dec. 1984), to service small orders for this material. Whitman Products does have a minimum order of 100 yards per color, but Colophon will honor orders for as little as a single yard of any color in its own stock.
Suppliers
Andrews/Nelson/Whitehead, the exclusive importer of fine bookbinding leathers from J. Hewit Tannery in Scotland, announces a new technological improvement in the tanning process of Hewit leathers. "The vegetable tanned Chieftain goatskins are now retanned with aluminum to improve the pH of the leathers, thereby increasing the life span of the skins. The resulting skins are slightly softer than heretofore. The range of 15 different colors in each of the grades remains unchanged." for samples, prices, and a list of the Andrews/ Nelson/Whitehead distributors contact Karen Crisalli, Assistant Manager, Art Paper Department, 31-10 48th Ave., Long Island City, NY 11101.
Arno Roessler, formerly of Process Materials Corporation, announces the establishment of a new company, Paper Technologies, Inc., offering extensive line of archival quality products for the restoration and conservation of museum and library materials, including the entire line of quality products supplied by Process Materials Corporation, Rutherford, NJ, and Light Impressions Corporation, Rochester, NY, for sale and distribution in the Western part of the United States." for further information contact Paper Technologies, Inc., 28082 Gunnison Court, Laguna Niguel, CA 92677 (714/643-3021).
Equipment
New and used book presses, shears, etc., Hickok hand binders' equipment, Kutrimmers, Premier Trimmers, Schärf-fix 80 skivers, Kwikprint gold stampers. From Alan Dietch/ Equipment West (415/349-1681) and East (716/325-3910).
The Tolfan Corp., mentioned in Vol. 8 No. 6 Dec. 1984, for the German line of binding equipment by the Schmedt Corp. which they carry, also carries binding equipment by another West German firm, Karl Tranklein, including board shears and standing presses. Contact the Tolfan Corporation, P.O. Box 7805, Jersey City, NJ 07307-0805 (201/659-6746).
A new edge gilding machine, the Gilding Machine Type FL, was designed by Men Ochsner, a leading Swiss edge gilder, for binders who occasionally must gild hook edges. It uses an externally heated and constantly rotating silicon roller four inches wide, mounted on a head which is lowered by hand, similar to a stamping machine, and moved slowly back and forth over the book edge which is held in a clamp, utilizing gold or colored foils. The main feature of this unique and reasonably priced machine is the uniform heat and pressure control. For further information contact Pete Johnson, President, Book Machine Sales, P0 Box 53, Sterling, PA 18463 (717/689-2687). Mr. Johnson is the sole agent for all Ochsner gilding machinery and a leading source for used and rebuilt edition binding equipment.
Computer Software for Conservators
A private company, Cypher-Tech, has begun to develop specialized conservation computer software called Artware (TM). They are creating a general package which will aid private and museum conservators with office/studio management and report writing. Artware will include systems for: files for information storage, recall and list generation according to owner, artist, type of treatment, deadlines, etc.; artwork inventory; work progress status; appointments; supply/ supplier lists; bookkeeping; cost management; contracts; billing; letters; reports; etc. Sample examination and treatment forms will be included; however, Cypher-Tech can also incorporate a conservator s own forms into Artware. The software is scheduled for release in late '85. It will he discussed at the pre-conference seminar of the IIC-CG, May 13-16 in Halifax, Nova Scotia, "Computer Technology in Conservation," which will issue a publication with important information on this subject.
Cypher-Tech is requesting suggestions, questions and comments from conservators regarding this project. Contact Sandra Blackard, Perry Huston & Associates, Inc., 7440 Whitehall, Fort Worth, TX 76118 (817/595-4131).