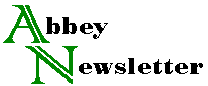 Volume 9, Number 3
May 1985
Little-Known Facts About Museums
The American Association of Museums has just published Museums for a New Century: a Report of the Commission on Museums for a New Century. In the brochure describing this report there are some attention-grabbing facts and figures.
Excerpts:
The number of museums in the country increases every year; in Texas alone there are six times as many as there were 16 years ago.
The United States is virtually the only major country in the world without a national policy or plan for the conservation of objects in museums.
The number of objects in the care of America's museums is estimated at one billion.
Eleven cooperative conservation centers around the country are helping small and medium-sized museums meet their conservation needs.
The report gives 16 recommendations to guide America's museums as they move into the 21st century. It costs $17.95 for nonmembers of AAM, plus $1.50 postage, and can be ordered from American Association of Museums, P0 Box 33399, Washington 1)2 20033.