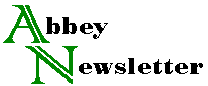 Volume 9, Number 2
Apr 1985
Editor's Page
Corrections
The 10th Anniversary Conference of the Institute of Paper Conservation will take place April 14-17, 1986, not in March 1986 as announced in the last issue.
Werner Rebsamen is a full-fledged member of the task force that has been working on a conservation-oriented revision of the Library Binding Institute's Standards. (On the front page of the December 1984 issue it said he was not a member, but had been formulating specifications.)
Todor Stambolov has not stepped down, but is remaining as chairman of the Working Group on Leathercraft and Related Objects in ICOM's Conservation Committee, at least until the next triennial meeting.
In the Library of Congress's survey of its collections, reported on p. 4 of the February issue, the confidence level was not 2.6% (that would have been very low) but 95%. The tolerance was 2.6%.
The telephone number for the Ox Bow office is not valid this year. It was mistakenly given on p. 9 of the last issue. Write them at PO Box 5809, Chicago IL 60680.
Many thanks to the people who sent in these corrections.
A Note on the Paper
This newsletter is printed on 40 lb. Waylite, from the Ecusta Paper and Film Group, Pisgah Forest, NC 28768. This paper is acid-free and well buffered, and is extraordinarily opaque, which enables the Newsletter to save considerably on postage because a lighter weight can be used.
The Abbey Newsletter: Bookbinding and Conservation is issued six times a year and has about 800 paid subscribers. New subscribers automatically receive all issues published in the current year, unless they request otherwise. All subscriptions expire on the last day of the year. To initiate or renew a subscription, send name, address, and a check for $30 made out to Abbey Newsletter, c/o Preservation Department, Brigham Young University Library, 6216 HBLL, Provo, UT 84602. The telephone number is 801/378-2512 during the day and 801/373-1598 evenings and weekends. Note: the Newsletter is not part of the University or the Library.
No paid advertisements are accepted, but any notice that is appropriate and has news value will be printed if there is room for it. Written contributions and bits of news are welcome. Claims for issues which are defective or damaged in the nail, and for back issues paid for but never received, will be honored without question within a year of publication.
The Abbey Newsletter is indexed in Art & Archaeology Technical Abstracts, Institute of Paper Chemistry Abstract Bulletin and Graphic Arts Literature Abstracts (RIT).
The editor encourages readers to copy and pass around articles from the Newsletter, even entire issues; but before copying on a scale that amounts to republication, permission must be obtained.
| | |
| --- | --- |
| Editor and publisher: Ellen McCrady | |
| Copyright 1985 Ellen McCrady | ISSN: 0276-8291 |