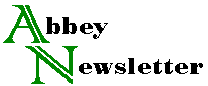 Volume 9, Number 1
Feb 1985
People
Sally Grauer is the new Executive Director of the Library Binding Institute. She will continue editing the New Library Scene.
Robert McCarroll, paper conservator, has joined the staff of the Rocky Mountain Regional Conservation Center. He was most recently with the Canadian Conservation Institute and at its Atlantic Conservation Centre in Moncton.
Janine Beardmore recently began work at the Paper Conservation Lab at the National Gallery of Canada.
Frank C. Burke has been appointed Acting Assistant Archivist f or the National Archives.
Richard Jacobs has been appointed Acting Director of the National Historical Publications and Record Commission.
Guy Petherbridge (in addition to the other things he does) is Adviser to the Directorate of Scientific Policy, Ministry of Research and Technology, Greece.
Sidney Huttner has been appointed head of special collections at the McFarlin Library, University of Tulsa.
Shannon Zachary has enrolled in the paper conservation course at the Camberwell School of Art and Crafts in London.
Robert DuMeer is paper restorer with Julius Lowy Frame and Restoration Company.
Abigail Quandt has been hired under an IMS grant to complete a condition survey of the manuscript collection at the Walters Art Gallery.
Sheba A. Haner has accepted a position as conservator at the Massachusetts State Archives, Boston.
In the Columbia U Pipeline
Students currently enrolled in the School of Library Service Conservation Program (future book and paper conservators) are:
Roxane Ah Kao
Rosemary Fallon
Kathleen Hanson
Gail Harriman
Hilary Kaplan
Susan Lunas
Elizabeth Morse
Kathleen Orlenko
Mary Pound
Patrick Ravines
Marc Reeves
Barbara Rhodes
Anna Stenstrom
Eleanor Stewart
Students in the Preservation Adninistration Program are:
Victoria Adamitis
Janet Baldwin
Eileen Bentsen
Bess Michaels
Peter Mustardo
Lorraine Rutherford
Cheryl Schackelton
David Smith
Kathleen Steves
Duane Watson